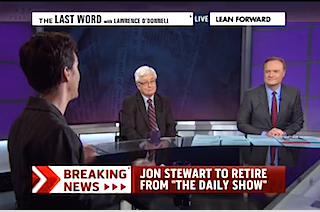 MSNBC may have been a bit hamstrung when it came to reporting on Brian Williams' suspension, but the network had no problems covering Jon Stewart's pending departure from The Daily Show last night. All three of MSNBC's primetime hosts spent a good portion of their shows discussing what Stewart's decision means for late night and progressive comedy, culminating in an extended memorial of sorts from Lawrence O'Donnell and Rachel Maddow on The Last Word.
"True confession time," O'Donnell said to Maddow at one point. "Do you watch The Daily Show as I do and look at certain things that they do and think, 'Oh, if we could ever do it that way?'"
"I also think like, 'I can't believe it did it first,'" Maddow admitted, saying she has scrapped ideas for her show because she realized she could never do it as well as Stewart did. "Listen, they don't have the constraints of a news show," she continued. "They pick whatever they want and talk about it for as long as they want, within the 30 minute timeframe."
"But when they do news segments, they're better than what any of us are doing," Maddow stated. "Their production value, their research, their credibility and the sense of humor — and the swearing!"
"They comment on the media better than anyone else does," former New York Times writer Bill Carter added.
"Yes, they do," O'Donnell agreed. "And we all live in fear of those comments."
Maddow may be correct that The Daily Show does not have the "constraints of a news show" in the sense it can take whatever humorous angle on a given topic it wants without the obligations that a larger news organization like MSNBC has to inform viewers. But it may be precisely the constraints that it does have — producing just four 30-minute show per week instead of trying to fill 24 hours a day — that allows it to have a greater impact than anything found on cable news.
With Stewart on his way out, progressive viewers will be looking for someone to hold the right accountable the way he so often did and MSNBC anchors like Maddow and O'Donnell may have to step up and be those people. Who's stopping them?
Watch video below, via MSNBC:
[Photo via screengrab]
— —
>> Follow Matt Wilstein (@TheMattWilstein) on Twitter
Have a tip we should know? tips@mediaite.com