MSNBC's Martin Bashir and Rep. Alan Grayson Go At It Over KKK-Tea Party Email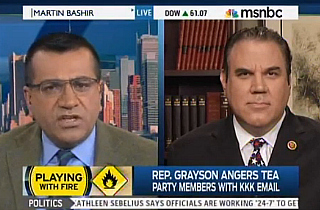 This might come as a surprised to anyone familiar with Martin Bashir's usual rhetoric. On Friday afternoon, the MSNBC host tore into Rep. Alan Grayson (D-FL) for his "inflammatory" fundraising email that compared the Ku Klux Klan to the tea party movement. The congressman continued his defense of the email in spite of outspoken liberal Bashir's protests.
Bashir began by noting that he has "some sympathy" for Grayson's analysis, citing how "over the last five years, we have witnessed plenty of instances of racial hatred toward the president — whether it's the revoting Rush Limbaugh, the imbecile Sarah Palin, or tea party supporters spewing their hate at various rallies." However, he asked, "How can you possibly compare racist epithets with racist actions of the KKK, which actually led to racist murders?"
Grayson responded that "the home of discrimination and bigotry in our country" is the tea party, similar to how, at one point, the KKK was the wellspring of racial hatred years ago. "I'm pleased that we haven't gone so far as to see those murders," he said, "but the analogy holds to that degree," citing the protestor who waved a Confederate flag in front of the White House recently.
"But how many young black and white civil rights workers has the tea party lynched?" Bashir asked, prompting the congressman to respond: "Sometimes analogies are imperfect."
"Do you accept that that may have been an inappropriate analogy?" the MSNBC host pressed.
"No," the congressman replied. He suggested that because the NAACP once asked the tea party to remove racists from their midst, and have thus far failed to do so, the analogy holds.
Bashir attempted to corner Grayson by likening him to some of the more extreme elements of the Republican Party who've failed to curtail their own "incendiary" comments. "Don't you yourself thereby debase your own party by arguing on their level?" the host asked.
"Do you think that racism is the same as calling out racism?" a baffled Grayson fired back. "Do you think that my effort to end racism in America is somehow analogous to racism itself? That's ridiculous."
Towards the end of the interview, Grayson even suggested that Bashir was in cahoots with the racist elements of the tea party by calling him out in the first place: "The point I'm making is that if you don't speak out against it, then in effect, you're collaborating with it," he said. "And, in fact, if you give someone like me a hard time for speaking out against it, then maybe you're collaborating with it."
Watch below, via MSNBC:
Visit NBCNews.com for breaking news, world news, and news about the economy
— —
>> Follow Andrew Kirell (@AndrewKirell) on Twitter
Have a tip we should know? tips@mediaite.com