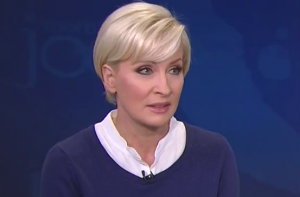 Liberal MSNBC host Mika Brzezinski tore into Democratic presidential candidate Hillary Clinton for accusing her rival Bernie Sanders of sexism, calling the charge incorrect and pathetic.
Sanders said at a campaign rally that "all the shouting in the world" could not fix the problems of gun violence. Clinton then painted those remarks as sexist, saying Saturday, "I haven't been shouting, but sometimes when a woman speaks out, some people think it's shouting."
"Mika, is that sexist what Bernie Sanders said?" asked her Morning Joe co-host Joe Scarborough.
"No. That was — don't make me say it, Joe. Please don't make me say it," she pleaded.
"That's pathetic," he said for her. "Absolutely pathetic."
"That's pathetic," she agreed.
"I know she's the frontrunner, I'm sure she will win," Brzezinski continued. "But that's pathetic. That's the sort of straight out of Veep. Except when Veep does it it's hysterical, because it's so ridiculous; that wasn't funny, it was pathetic."
"I know sexism. Hillary Clinton knows sexism. She should know better than let her staff make her do that," Brzezinski said. "She needs to get out there and talk. Everyone stop writing lines for her. They're bad, really bad."
"And when we talk about sexism, we talk about women and equal pay and all these things that are important. Let's not denigrate it with that stupidity, because we embarrass ourselves," she concluded. "I'm like, cringing."
"You shouldn't have [let me announce it]," she chided Scarborough. "I'm going to get killed. But that's okay, because that was pathetic. That was sad and pathetic."
Watch above, via MSNBC
[Image via screengrab]
——
>>Follow Alex Griswold (@HashtagGriswold) on Twitter
Have a tip we should know? tips@mediaite.com