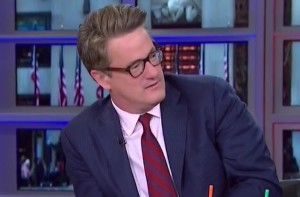 The hosts of MSNBC's Morning Joe attacked Ted Cruz Tuesday morning based on a false interpretation of a video that was completely debunked a day earlier.
Hosts Joe Scarborough and Mika Brzezinski mocked the moment when Carly Fiorina fell off stage while campaigning with Cruz. That would have been fair enough, but the hosts took the time to attack Cruz, saying he saw Fiorina fall and did nothing to help her.
"He's very caught up in himself and his pregnant pauses and connections with people that he would not even notice his vice presidential running mate falling off the stage six inches from him," Brzezinski sneered.
"Right there! He saw her!" Scarborough said. "And then he turned away and kept shaking hands." He then asked producers to freeze frame and slow down the video to give a Loose Change-esque analysis of exactly why the video showed what he thought it did.
From there, Morning Joe played Donald Trump's take on Fiorina's fall. Completely by coincidence, Morning Joe's take on the video was exactly the same as Trump's.  "I would be concerned if I were, you know, Carly," Scarborough concluded.
"Guys, that's crazy!" agreed Brzezinski.
.@CarlyFiorina falls off the stage at @tedcruz rally… @realDonaldTrump points out Cruz didn't even help her https://t.co/astu30yvtT

— Morning Joe (@Morning_Joe) May 3, 2016
Except as Mediaite's Tommy Christopher pointed out yesterday, the angle of the popularly-shared video clip is very misleading. When viewed from another angle, it's clear that Cruz was nowhere near Fiorina when she fell and never saw it happen. He doesn't see Fiorina when he glances slightly forward and down because she was actually several yards in front of him, not "six inches."
And really (as my esteemed liberal colleague pointed out), it's a story too good to be true. To believe that Cruz saw his running mate fall from a stage and did nothing — in full view of cameras — would require him to be both a sociopath and a complete ignoramus. That's proof enough for a rabid Cruz hater, but we tend to expect a bit more from supposedly serious cable news hosts.
Mediaite's piece was published 24 hours ago, but any MSNBC producer (or host) who simply Googled the story would have seen explainers from half a dozen outlets on why the story was BS. Out of ignorance, ineptitude, spite, or all three, Morning Joe ran with the story anyway.
Scarborough and co. are in good company. By my count, the few remaining outlets that are still reporting the "Cruz ignored Fiorina falling" lie as the unabashed truth are Infowars, Salon, Jezebel, and Morning Joe. Truly, the cream of the crop.
Watch above, via MSNBC.
[Image via screengrab]
——
>>Follow Alex Griswold (@HashtagGriswold) on Twitter
This is an opinion piece. The views expressed in this article are those of just the author.