MSNBC's Morning Joe Guests All Agree: Obama Could And Should Have Declared Benghazi A Terror Attack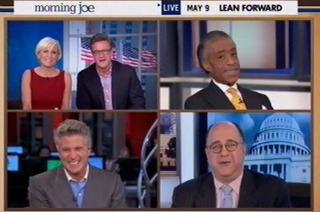 During a discussion of Wednesday's testimony on Benghazi during MSNBC's Morning Joe, Commentary Magazine editor and New York Post columnist John Podhoretz explained in detail why the testimony by State Department whistleblowers was so potentially damaging to the administration of President Barack Obama. While not all panelists agreed that the hearings could directly damage the president, they did agree that the administration could have labeled the Benghazi attack an act of terror. The panel guests were vexed by the White House's reasoning, given Obama's public trust on the issue of terrorism at the time. If Obama had declared Benghazi a terrorist event, Podhoretz claimed, it would have ultimately been politically beneficial for him.

Podhoretz opened the segment by detailing some of the more shocking moments that occurred during Wednesday's marathon congressional hearing on Benghazi.
"No one was under the impression that this was anything but a terrorist – pre-planned, terrorist assault," Podhoretz said of the service personnel in Libya during the attack. "And nobody, at any point, mentioned spontaneous demonstrations as a result of the Innocence of Muslims YouTube video, and yet, five days later, that was the operative theory of the administration."
RELATED: Stewart Rips Fox News Over Benghazi Coverage: 'Denizens Of Bullsh*t Mountain Have Cried Wolf Before'
Podhoretz said that one of the most shocking revelations was the fact that a State Department official close to former Sec. Hillary Clinton said in an email the day after the attack that they knew that the event was a terrorist act committed by the Al Qaeda affiliate Ansar al-Sharia.
"Not only did they believe this was a terrorist attack, but they actually knew which group it was," Podhoretz noted. He was confused, however, as to the reasoning behind the administration's refusal to link Benghazi to terror. Podhoretz suggested that if Obama had declared the attack a terror event the public would have rallied around him.
Donny Deutsch agreed with Podhoretz. "I disagree with everything he says every day in his columns, but I couldn't agree more here," Deutsch said.
Al Sharpton also agreed. "It's very confusing, it's very concerning," Sharpton said. "I have to say, John is right – we've got to say what's here. But I'm not convinced that there's there there yet."
At this point, the panel guests agreed that Armageddon was imminent due to the improbable consensus around Podhoretz's points.
Watch the clip below via MSNBC:
> >Follow Noah Rothman (@NoahCRothman) on Twitter
Have a tip we should know? tips@mediaite.com