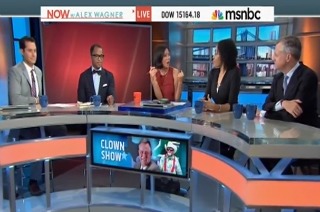 A group of guests on MSNBC's Now on Thursday agreed that a Missouri rodeo clown who wore a mask of President Barack Obama and invited bulls to run after him was indicative of a larger epidemic of racial animus in America. One guest on the program linked this incident to voter identification laws and said that it shows a significant portion of the country believes Obama is not a legitimate President of the United States because of his race.

"This is a decidedly racially loaded move to wear a mask of the president and invite yourself to be run over by a bull, right?" host Alex Wagner asked her guest, The Root columnist Janell Ross.
Ross and Wagner agreed that the clown's act amounted to "an actual minstrel show."
"It is, in many ways, just one of many ways that this president has suffered, sort of, almost unprecedented levels of disrespect," Ross added. "Both as a person and also for the office itself."
She asserted that this event, like "voter suppression laws," is another way to "imply that there is no way this man could be in office without something untoward going on."
RELATED:MSNBC's Now Parodies Itself With Tortured Claim Boston Bombers Were Right-Wing
The Washington Post columnist Jonathan Capehart agreed with Ross and added that he recently took some heat for saying that there was an element of racism in Gov. Jan Brewer famously waging her finger at Obama on the tarmac of an Arizona airport in 2010.
"For us to say that this is disrespectful to the president — to President Obama — disrespectful to the office, is true," Capehart declared. "And it has racial implications."
"For those people who don't want to see that and don't accept that, well that's — they are completely part of the problem," he added.
Wagner concluded the segment by dismissing those who say that former President George W. Bush also experienced mockery and derision during his time in office. She said that Bush, a white man, does not have to contend with the legacy of "minstrelstry" that was evoked by the offending rodeo clown.
Watch the clip below via MSNBC:
> >Follow Noah Rothman (@NoahCRothman) on Twitter
Have a tip we should know? tips@mediaite.com