MSNBC's Roberts Disputes Claim That Press 'Not Interested' in Helping People Get Obamacare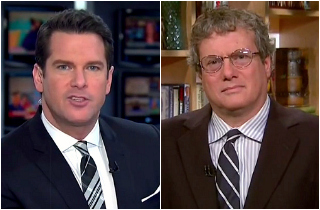 MSNBC analyst Timothy Noah accused the press corps Tuesday morning of abdicating its responsibility for informing the public of the varieties of methods for signing up for the Affordable Care Act, while host Thomas Roberts argued the media had done all it could short of barging into people's homes and signing them up themselves.
"There's a limited amount of time that the uninsured have to sign up for Obamacare, and they are not being given very good information," Noah said, arguing that major newspapers had focused on the national (and malfunctioning) healthcare exchange website to the exclusion of more successful state-based portals. "I must say the press is severely at fault here…The press is really not providing some basic consumer information that people are going to need in order avoid paying a penalty."
"But when it comes to Healthcare.gov, it's not the media's fault that the website doesn't work," Roberts countered. "It's not the media's fault that Republican governors have been obstructionists in states to set up their healthcare exchanges."
RELATED: Did Chuck Todd Really Say Media Not Responsible to Correct Obamacare 'Falsehoods?'
"The media is not terribly interested in providing much guidance to people who want to sign up through Healthcare.gov," Noah replied.
"Most media people have been actually going on and trying to sign up themselves, and bringing casts of characters that will do it on television for them," Roberts said. "Basically, unless we go into individuals' homes and sign them up ourselves, how are we supposed to help people any more than we already have?"
"Let me give you an example," Noah said. "Frank Lawley, a former editor of Money Magazine had an advice column in Parade Magazine. Terrifically helpful. They only ran it during the month of October, then they pulled the plug on it. About three-quarters of what I know about the ins and outs of practically signing up for Obamacare, I learned from that column."
Watch the full clip below, via MSNBC:
[Image via screengrab]
——
>> Follow Evan McMurry (@evanmcmurry) on Twitter
Have a tip we should know? tips@mediaite.com