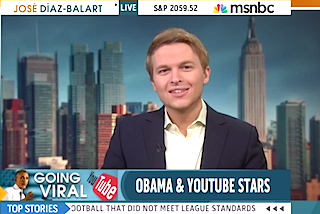 Fox News' Howard Kurtz may have thought President Barack Obama's series of interviews with YouTube celebrities was "beneath the dignity of the office," but if you ask MSNBC's Ronan Farrow, he thinks Obama needed those YouTube stars more than they needed him.
Farrow, who spoke to two of the three following yesterday's interview session, appeared on The Rundown with José Díaz-Balart Friday morning to share his reaction to the unprecedented online event.
"I think there's a fair argument that the White House needs these YouTube personalities more than they need the imprimatur of the White House," Farrow proposed, noting their collective 13 million subscribers. While GloZell Green's most popular video, in which she eats cinnamon from a ladle, has more than 42 million views. That's far more than the estimated 31.7 million people who tuned in to Tuesday night's State of the Union address.
"The truth is more people are watching these guys than those of us on traditional TV in a lot of cases," Farrow added.
RELATED: Drones, Cuba, Boko Haram: Obama's YouTube Interviews Actually Packed a Punch
And, as Díaz-Balart pointed out, the subject matter of the interviews were not as lightweight as many would have expected.
"The arc of the interview they had with the president actually wasn't that substantively different than you would get with traditional journalists," Farrow said. While the YouTube personalities readily admit they are not "trained reporters," he said, "nevertheless, they hit some real issues there, and the president answered them frankly. I think it is a sign of the times and a helpful sign that the White House is catching up with those times."
While MSNBC's daytime shows rarely, if ever, reaching more than 1 million viewers, the host suggested he might need to start wearing green lipstick.
Watch video below, via MSNBC:
[Photo via screengrab]
— —
>> Follow Matt Wilstein (@TheMattWilstein) on Twitter
Have a tip we should know? tips@mediaite.com