MSNBC's Ronan Farrow Takes Heat for 'Exploitive' Tease About Grieving MH370 Families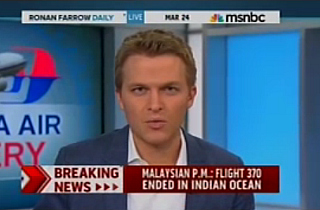 On Monday morning, several media outlets got a first-hand glimpse into the shattered reactions of the families of MH370 passengers as Malaysian officials notified (by text message) that the aircraft came to an end in the Indian Ocean. One of those outlets was MSNBC.

The network's 1 p.m. host Ronan Farrow tweeted out earlier today that his show would contain an "exclusive," as they had been talking with passenger Philip Wood's partner at the very moment she discovered his tragic fate: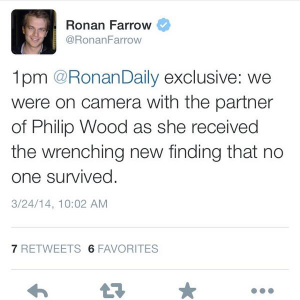 In poured the criticism, including one from a CNN staffer:
I wish @RonanFarrow would have thought more before tweeting about exclusive on MH370 family getting text about the plane.

— Justin Lear (@CNNJustin) March 24, 2014
Pop music? Not Ronan Farrow's scene. Exploiting grief-stricken families? Totally Ronan Farrow's scene. pic.twitter.com/MN0NhuLLYM

— Mike Driscoll (@NotMikeDriscoll) March 24, 2014
.@RonanFarrow @RonanDaily Like and respect you Ronan but I think this on-camera as Sarah Bajc found out her partner perished is exploitive.

— Omar Moore (@popcornreel) March 24, 2014
@RonanFarrow @RonanDaily maybe there are some things we shouldn't show in camera.

— Amy Subach (@amysue) March 24, 2014
An example of truly exploitive and horrible journalism from @MSNBC and @RonanFarrow #MH370 pic.twitter.com/WMa9E1i6wE

— Chaz Tyldsley (@ChazTyldsley) March 24, 2014
Farrow deleted the original tweet, and later sent out this one:
1pm @RonanDaily: the latest on how loved ones received the news – and yes, we will respect their dignity and privacy in what we show.

— Ronan Farrow (@RonanFarrow) March 24, 2014
During the 10 a.m. ET hour, MSNBC aired audio of grief-stricken family members upon receiving the news.
UPDATE: Fox News also aired video of the sobbing families this morning.
— —
>> Follow Andrew Kirell (@AndrewKirell) on Twitter
Have a tip we should know? tips@mediaite.com