MSNBC's Stephanie Ruhle Flips Out Over Trump Saying Nikki Haley Made U.N. Job 'Glamorous': 'What in God's Name is he Talking About?'
On MSNBC on Wednesday, anchor of MSNBC Live Stephanie Ruhle was outraged over how President Donald Trump described the job of Ambassador to the United Nations after Nikki Haley's tenure in the post. In fact, she said he was acting like a "crazy Uncle" and wanted to know what "in God's name" he was talking about.
The segment started with Ruhle replaying a clip of President Trump on Tuesday's presser describing the changes to how the ambassador job is viewed, post-Haley.
Trump was speaking to reporters when he said that the job has "become maybe a more glamorous position than it was two years ago, maybe, I wonder why, but it is."
"She's made it a very glamorous position," he said. "She's made it a more important, more importantly, a more important position.'
After the clip, Ruhle, dramatically resting her head on her hand in exaggerated exasperation, turned to her guests and demanded incredulously "what in God's name is he talking about?"
"And what kind of insult is that to a smart, intelligent, capable woman as Nikki Haley, saying she's made the position more 'glamorous'?" she continued, suddenly finding respect and admiration for the conservative Haley.
SiriusXM host Mark Thompson took the outrage and ran with it. "It's exactly the kind of insult you'd expect from a misogynist like Donald Trump," he said.
Ruhle turned to MSNBC's Bret Stephens and asked the same question.
"Bret, at this point we're totally desensitized to what the president said. You've got a woman like Nikki Haley who sits there and has to smile while he says that," said Ruhle. "Dina Powell may be up for the job, she made a name for herself in the advancement of women and girlsm, and now she's looking at a job that the president says 'it's more glamorous'." Ruhle snapped her fingers and made a mocking gesture as she repeated the word glamorous.
Stephens said that Haley didn't bring "glamour" to the job, but rather "brains and hard work, fantastic work ethic."
Ruhle was not finished flipping out over the word glamorous, and turned to the Daily Beast's Betsy Woodruff.
"Betsy, at this point do we just accept that this is the way that the president speaks, and, you know, chalk it up to nothing, like, oh, what if our crazy uncle said we look like a hot little biscuit on Thanksgiving?" After she delivered that line there was chuckling and Ruhle said "I mean it's like that though. Like, we're laughing but that is what we're talk about."
Woodruff replied that the way Trump talks about women is something his supporters are very well aware of, and that everyone knows to expect it from him.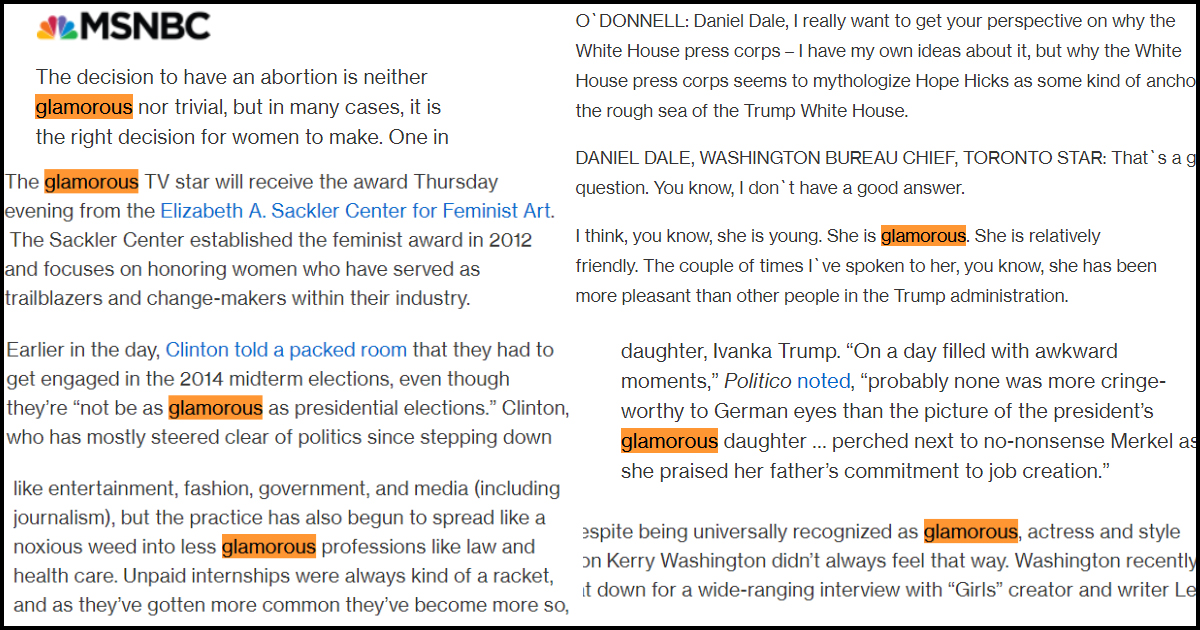 MSNBC uses "glamorous" in a bunch of sentences.
"Glamorous" is a word to describe someone's appearance, the relative appeal of an object, a lifestyle or job, and is even used (by Hillary Clinton) to describe Presidential elections and (by MSNBC) the profession of journalism. Donald Trump, who has not only a well-established history of piggish, offensive, dismissive, and sexist language and behavior toward women but has been accused of sexual misconduct and more, said of the job that Nikki Haley is leaving that it is now more prestigious and visible, and that more people are willing to take the job. It is, in short, more glamorous. Like being President (which MSNBC has described as glamorous). Prominent. Desirable. Exciting. Famous.
People have to be able to say "glamorous" in the way it is genuinely and regularly used. In the way it is literally defined. Even if Donald Trump used the word.
There's sexist. And then there's English. If you stop being able to tell the difference, you probably need a break.
[Featured images via screengrab]
—
Follow Caleb Howe (@CalebHowe) on Twitter
Have a tip we should know? tips@mediaite.com