MSNBC Analyst Steve Rattner Confronted On ABC For Comparing Tea Party To Terrorists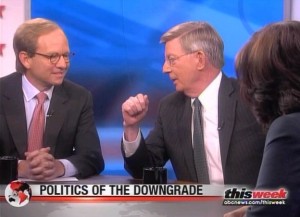 ABC's This Week continued it's now consistent pattern of featuring the most entertaining roundtable debate of all the Sunday morning shows. This morning Steve Rattner, a regular contributor to MSNBC's Morning Joe and former advisor in President Obama's Treasury Department was rightfully taken to task by George Will for suggesting Tea Party members of Congress were "economic terrorists" because of their "unreasonable" opposition to any tax increases. At first Rattner attempted to wiggle free from his own words, but then Will demonstrated the ridiculousness of the entire analogy.
Christiane Amanpour deserves credit for first pointing out the fact that Rattner used such an over-the-top description. Rattner's somewhat embarrassed response:
"I did say that [about] those who essentially were trying to hold up and bring the U.S. to the brink of default without being reasonable in their compromise . . . But you do have one group of people who are saying no tax increases, never, no how – when in fact the tax decreases under President Bush partly got us in this problem."
Later Will reminded Rattner that he also compared the Tea Party to suicide bombers, which Rattner denied. Although ABC's Cokie Roberts settled that mini-debate by confirming "terrorists are suicide bombers." Not to mention the fact that Rattner's exact words were that members of the Tea Party were essentially strapping dynamite to their chest as a negotiation strategy. Yet, if the Tea Party members who opposed raising the debt ceiling were "terrorists," since that was the only way possible to avoid default, then Will had a shocking revelation for Rattner regarding who voted for the eventual debt deal that passed:
"You do know that 95 House Democrats voted against raising the debt ceiling as compared to only 66 House Republicans. You do know that 26 Democratic Senators voted against raising the debt ceiling?"
That's right, by Rattner's logic then, it's actually the Democratic party that has more "terrorists" amongst their ranks since more of them voted against raising the debt ceiling at the last crucial moment. What should be embarrassing for Rattner and others who have resorted to such "violent rhetoric" to describe the peaceful and persistent views of the Tea Party is that it's become clear they would prefer to belittle a viewpoint popular with many, rather than attempt to convince more Americans of the merits of their philosophy.
Watch the clip from ABC below:

Have a tip we should know? tips@mediaite.com