MSNBC's Tamron Hall Abandons Pretense Of Neutrality As GOP Panel Guest Gets Under Her Skin
Tamron Hall Abandons Pretense Of Neutrality As Panel Guest Gets Under Her Skin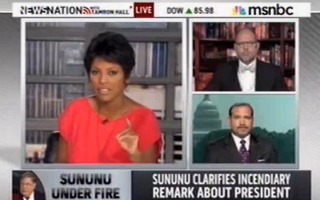 In a panel discussion with Republican strategist Danny Vargas, MSNBC's anchor of News Nation, Tamron Hall, abandoned the pretense of neutrality and opted to make most of President Barack Obama's campaign's attacks on Mitt Romney herself – despite inviting Democratic strategist Jimmy Williams on the panel as well to provide balance.

RELATED: Tamron Hall Reams Tim Carney, Cuts His Mic For Accusing Her Of 'Media Trick'
Hall appeared irritated by the Romney campaign's use of Sec. Hillary Clinton's attacks on the President during the 2008 Democratic primary in an anti-Obama ad. Hall asked Vargas if he would agree with Sec. Clinton who called the ad "wasted money."
Vargas replied that the ad illustrates how the Obama campaign, past and present, regularly diverts the conversation from the topic on most voters' minds to one that is less relevant.
"To the extent that using Hillary Clinton's own words from 2008 saying that Barack Obama will do or say anything to get elected, I think it's salient," said Vargas before Hall interrupted him.
"So will the next ads feature former President [Bill] Clinton saying that Mitt Romney needs to release those taxes, that Mitt Romney's tax plan will hurt the middle class," said Hall. "If you're going to use people conveniently and pick and choose, why not use the whole thing?"
"Ask the Obama campaign if they are going to do that," replied Vargas.
"No, I ask if Romney will the words of – critical words of President Clinton this week," said Hall, without noting the confusion that would likely result from the Romney campaign cutting and airing ads of a Democratic president criticizing the GOP presidential nominee.
Vargas explained that the Romney camp may indeed use the words of President Clinton at some point, who has been publically critical of Obama.
"I would hope that you would say it was a distraction and not talking about the issues that matter which is what you said earlier," said Hall, critiquing Vargas' response.
At this point, Williams chimed back in briefly and he and Vargas debated the week of political messaging. But the exchange did not last long before Hall interrupted again to make the Obama campaign's points clear.
"What specifically has Gov. Romney laid out as a plan," asked Hall. "What cuts would he make to improve the deficit situation in this country? What would he do immediately to help these people et back to work? His 'first day on the job' ad has been – I might say – quite vague there."
Vargas went on to discuss Romney's 59-point economics plan and said that the regulatory burden on jobs creators has been onerous and needs to be scaled back. Hall interrupted one last time. "Did that work in the past 11 years," Hall asked twice, speaking over Vargas.
Hall went on to cite poll data to prove that a majority of people support raising taxes on high income earning Americans because "11 years of Bush tax cuts certainly don't have us with money falling from trees last I checked."
MSNBC programming claims that they consider every program after 9 a.m. EST but prior to 3 p.m. on the weekdays to be "straight news" — not point of view programming. The truth of this statement has been repeatedly called into question, starting arguably with Hall's own "Lean Forward" ad where she rails against the politically charged issue of income inequality. If Hall is a straight news anchor, as her network insists, than she should leave the role of panel guest to her panel guests.
Watch the segment below via MSNBC:
> >Follow Noah Rothman (@Noah_C_Rothman) on Twitter
Have a tip we should know? tips@mediaite.com