MSNBC's Tamron Hall On Bachmann: Why Try To Change Her Views, Just Let The Voters Decide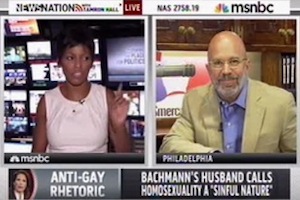 MSNBC's Tamron Hall spoke with radio host Michael Smerconish about the bubbling up controversy surrounding Republican presidential candidate Michele Bachmann and her history of controversial remarks about a gay lifestyle. Combined with allegations that Bachmann's husband led "pray away the gay" therapy sessions, it's no wonder many gay groups are targeting Bachmann for attack or eager to meet with her to educate her. Yet Hall found it particularly interesting that just as some blast Bachmann's husband for allegedly imposing his views on others, some of the very same critics are determined to get Bachmann to be accepting of their views.
Smerconish said he thinks Bachmann needs to meet a former intern of his who is a strong conservative and a loyal supporter of many Republican candidates, but who also happens to be gay. Smerconish warned that if Bachmann doesn't distance herself from her past statements fast, then her perceived anti-gay stance could be a "death-knell" for her general election chances, since "no way moderates and independents are ever going to vote for her when they hear all of this." Hall made an interesting and thought-provoking argument in response:
"It is one thing obviously for people to say they disagree with Congresswoman Bachmann and say that the things that she says are hateful – whatever. I am though intrigued by the number of people who want to change her opinion rather than accept that it is her view. . . . I am intrigued by how her husband's clinic wants to 'pray the gay away' for some people and others would like to pray or inject into her their philosophy, their thoughts and their beliefs. I am intrigued by that. Why not accept her for who she is or who she says she is and decide if you are willing to vote for someone like that."
It remains to be seen whether voters would be more likely to believe any new clarifying campaign rhetoric from Bachmann or whether her old statements in front of a much smaller audience would ring truer? Regardless, Hall's point seems simple enough: let candidates speak their minds freely, for better or worse, and rather than have groups try to convert a candidate's thinking, simply just let the voters decide.
Watch the clip from MSNBC below:

Have a tip we should know? tips@mediaite.com