MSNBC's Tamron Hall Forced To Rein In Martin Bashir After He Quotes Scripture in Bizarre Ryan Attack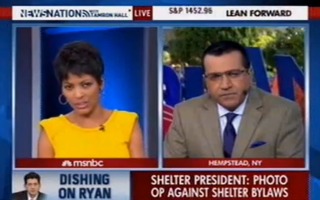 During an appearance with Tamron Hall, MSNBC host Martin Bashir criticized Republican vice presidential candidate Paul Ryan for making an unscheduled appearance at an Ohio soup kitchen for a photo opportunity. However, when Bashir turned to quoting passages from the Sermon on the Mount to indict what he considers Ryan's political opportunism, even Hall had to rein him in and remind him that photo opportunities are a staple of most political campaigns — both Democratic and Republican.
At the beginning of the interview, Hall asked Bashir to "objectively" assess what Mitt Romney has to do during this debate to maintain the momentum he accrued after the last debate. Bashir noted "objectively" that he expects a "circus act" similar to the past debate in which he claims Romney was dishonest about his positions.
Finally, Hall turned to Ryan's recent and controversial photo ops on the campaign trail. "What do you make of this guy and, I guess, photo ops," Hall asked after showing images of Ryan working out in a spread for TIME Magazine and appearing at the Ohio soup kitchen.
"We ought to thanks Congressman Ryan because if his budget, which was passed through the House by Republicans, if his budget were ever come to pass than Meals on Wheels would be killed," Bashir said. "Transportation services to the disabled would be destroyed. Food stamps would be eviscerated. I think many Americans would end up in soup kitchens like that."
Bashir continued to attempt to indict Ryan's "vicious and callous" budget proposal by painting his effort to appear charitable at the soup kitchen as a hollow campaign event rather than the genuine donation of his time.
"Mr. Ryan talks about himself being a Catholic," Bashir began. "I was reminded of the Sermon on the Mount where it says, 'Do not do your good deeds in front of people to be seen by them. Do not sound a trumpet before you go and the hypocrites do.' So, in that sense, I think he wasn't being particularly consistent with his Catholic faith."
Hall appeared to view Bashir's effort to make a religious condemnation against Ryan as going too far. "Are you being a bit harsh on him, though, in that you have people from both sides – John Kerry — photo ops are nothing new in politics," said Hall.
Bashir refused to take the out Hall presented him, though, and said that Ryan's budget would force people into soup kitchens. Thus, Bashir explained, Ryan's knowledge of his own religion's tenets is shallowly understood.
Watch the clip below via MSNBC:
> >Follow Noah Rothman (@Noah_C_Rothman) on Twitter
Have a tip we should know? tips@mediaite.com