MSNBC's Tamron Hall Takes On Conservative Radio Host Over Akin's Refusal To Step Aside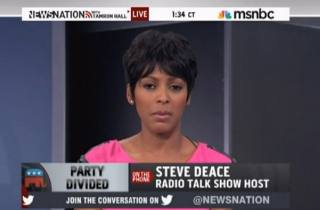 Appearing on MSNBC's News Nation Wednesday afternoon, Iowa-based conservative radio host Steve Deace ranted against the Republican Party establishment for its attempt to oust Rep. Todd Akin from the Missouri Senate race over a "gaffe" that shouldn't override his "entire ten-year career." Host Tamron Hall pushed Deace on a number of questions regarding the Republican Party's actions and why Akin shouldn't drop out of the race.
"Do you believe he should drop out?" Hall asked Deace directly. "I know you're a social as well as a fiscal conservative here."
"His comments and statements range from the bizarre to stupid," Deace replied. "It's a gaffe. There's no best-case scenario, no way to defend that. The question is: Does that override a man's entire career in the United States Congress?"
"Let me stop you," Hall interrupted to press Deace for a clearer response. "What is the answer? Does it override his ten years in Congress?"
"Ultimately the authority for that is with the people of Missouri," Deace said. "And if they don't think it does, I don't think it does, but I don't live in Missouri. That's not my call. I don't think it does."
"You don't live in a lot of places," Hall interrupted once more, "but that has not stopped you from giving your opinion. You're not a Democrat. I'm going to push you again on this. You're a certainly conservative and you think this should be left to the people of Missouri. Your nominee [Mitt Romney] says he should resign; some of the heavyweights in your party from Karl Rove on down say he should."
"You're telling me as a social conservative, you defer to the people in that state?" she pressed him. "You don't have an opinion?"
The two had a bit of crosstalk over whether or not those are two separate questions, with Hall eventually asking bluntly, "Do you believe or not that he should resign?"
"No, I don't believe he should," he said. "But I'm okay if the people of Missouri say we need another nominee. That's their decision. Me, I don't believe he should."
"Why?" Hall pressed.
"Because I don't believe what he's done throughout the course of his career, that this particular gaffe overrides an entire ten-year career," Deace responded. Akin has been the U.S. Representative for Missouri's 2nd District since 2001.
"What has he done in his career to trump this, what many see as malicious?" a seemingly incredulous Hall asked. "What has he done that would somehow escape these words? [Senate Minority Leader] Mitch McConnell said 'He said he's sorry, but sorry is not sufficient.'"
"It depends on who you're talking to," Deace said, then taking a shot at MSNBC: "It may not be sufficient for MSNBC viewers."
"No," Hall interrupted, "the Republican Mitch McConnell, it's not sufficient for him and his party and Karl Rove."
"The reality is Mitch McConnell is one of the worst political hacks on the plant earth," Deace said, then launching into a tirade against the Senate Minority Leader and the Republican Party for using Akin as a "human shield," and then claiming the mainstream GOP doesn't like Akin because he is "pro-life" and the party really prefers "somebody who will take marching orders from the Mitt Romney party establishment — or the Romulan party as I call it."
Deace then added that President Obama is "hard enough to the left he may hold [the various Republican factions] together for another 75 days, but it will be on like Donkey Kong if Romney gets in the White House," indicating that social conservatives might turn on the Republican establishment if the GOP gets into office.
Watch below, via MSNBC:
— —
>> Follow Andrew Kirell (@AndrewKirell) on Twitter
Have a tip we should know? [email protected]