MSNBC's The Cycle Explodes Over The 'Context' Of Obama's 'You Didn't Build That' Remark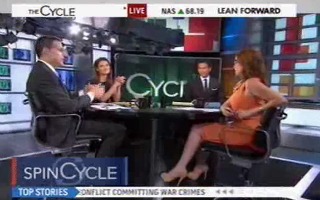 MSNBC's The Cycle hosts engaged in a heated back and forth over the context of President Barack Obama's "you didn't build that remarks" on Friday. The debate resulted in raised voices but no conclusion as to whether or not the President's comments are being misrepresented by Republicans.

RELATED: MSNBC's The Cycle's Co-Hosts Open Up To Mediaite About Launching New Show And Facing Critics
The hosts began by questioning if the furor surrounding Mitt Romney's gaffes, in which he questioned if London had enough security to handle the Olympics, was being overblown.
"The entire British press corps thinks they're pretty big," said Krystal Ball.
"The entire British press corps has a history of tabloid journalism," S.E. Cupp fired back. She noted that headlines like "Who Invited Party Pooper Romney" and "Mitt the Twitt" appeared to be reaching for controversy.
Touré said that he thought the Olympics gaffes committed by Romney had shifted the momentum back to President Obama and put the Romney camp back on the defense.
"The conversation in the news cycle has been about Obama perhaps making a gaffe," said Touré referencing the ongoing controversy surrounding the President's "you didn't build that" remarks. "This shifts it back to Romney making a gaffe – it's kind of hard for him to go back to, 'well, Obama misspoke when he said you didn't build that.' Well, now we're only talking about what you shouldn't have said."
"There is huge difference between Romney's gaffes –things he maybe shouldn't have said in front of polite company but that were true – and Obama's 'you didn't build that' which speaks to a political philosophy and his worldview of America," Cupp countered.
Touré replied that conservatives have twisted the President's statements into "something that it's obviously not."
Crosstalk ensued as The Cycle's hosts argued over what President Obama had actually said in the highly-publicized Virginia stump speech when he made the "you didn't build that" remark.
"You know what, this conversation is sort of ridiculous," interjected Ball.
Cupp asked why she thought it was "ridiculous," to which Ball replied that the quote was taken out of context. "Now the entire Republican machine is building a whole campaign around it," said Ball.
"Every reasonable person understands what he meant," said Touré.
More crosstalk ensued until Ball shut down the conversation by saying "let's move on" four times.
Watch the exchange below via MSNBC:
> >Follow Noah Rothman (@Noah_C_Rothman) on Twitter
Have a tip we should know? tips@mediaite.com