MSNBC's The Cycle Hosts Mercilessly Mock The 'BuzzFeed-ification' Of New GOP Website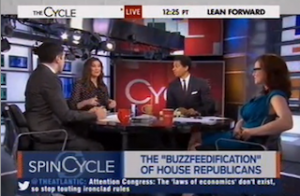 The National Republican Congressional Committee (NRCC) has a hip new website aimed at getting young people excited about the GOP's message, but so far the people who seem the most excited are the hosts of MSNBC's The Cycle. New co-host Ari Melber kicked off the segment by making the inevitable comparisons between the new site, which features handy charts, videos and animated GIF's, and BuzzFeed.com.
Also like BuzzFeed, the new GOP site is fond of posting "listicles" or list-based articles such as "13 Animals That Are Really Bummed on ObamaCare's Third Birthday." And, the NRCC's site has a somewhat similar look, as seen below. As Melber said of BuzzFeed, "with great success, comes great mimicry."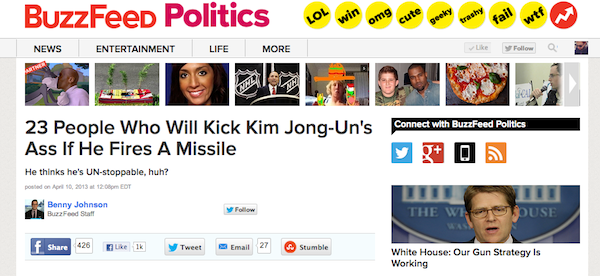 "They are spending their money and time trying to develop a whole web portal," Melber continued, "that is more fun, that is more cool, more young" in an effort to catch up to where President Obama's campaign operation was last year. "The problem for the Republicans here is," he said, "is they're doing it wrong. You can't just do it with goofy content and you can't just take the BuzzFeed animal pictures, slap it on your budget complaint and move on." He added, "the big difference is that Obama spent more time building those grassroots viral networks, so that when they had something to share there were people there to share it."
Resident conservative host S.E. Cupp was naturally the only one willing to defend the site, calling it "genius." She suggested that "y'all would love it and be flipping out and making out with it if the DNC did this." She added that it's "already paying off in dividends" by increasing fundraising hauls and email sign-ups for the NRCC, as she found out by speaking to the Digital Director Gerrit Lansing. "They're not trying to be BuzzFeed," Cupp argued, "they're trying to be internet-friendly."
Perhaps the most awkward moment came at the end of the segment when Melber was forced to make a "hard turn" segue to a story about rape in the military.
Watch video below, via MSNBC:
—
>> Follow Matt Wilstein (@TheMattWilstein) on Twitter
Have a tip we should know? tips@mediaite.com