MSNBC's The Cycle Hosts Trash Fox's Eric Bolling For 'Fake Macho' 'Disgusting' Defense Of Rutgers Coach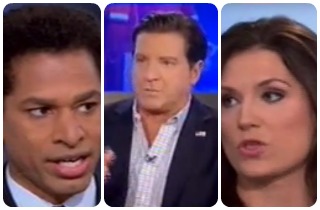 On Thursday, the hosts of MSNBC's The Cycle tore into the impulses of some, exemplified by Fox News Channel host Eric Bolling, to defend the actions of Rutgers University basketball coach Mike Rice who was recently let go after his abusive practices towards his players were revealed. "I talk about the wussification of American men, and this is it," Bolling said on Wednesday of Rice's firing. MSNBC hosts Touré and Krystal Ball went off on Bolling for his "fake macho" posture and "disgusting" defense of Rice's actions.

RELATED: The Five's Bolling Defends Abusive Rutgers Basketball Coach Against 'The Wussification Of American Men'
Touré said that Rice's actions reminded him of his coaches abusive impulses when he played tennis "very seriously" as a youth. He added that he was never physically abused, but the verbal berating that he suffered from his coach was nevertheless scarring.
"Mutual respect with the players gets you father than fear," Touré continued. "Building up an athlete's self-esteem makes them perform better."
"Touré, I think all your talk of mutual respect is just contributing to the wussification of America's men," Ball replied sarcastically.
She played a clip of Bolling saying that Rice's firing is an example of American culture "in free-fall."
"One of the more troubling things here are the slurs that were used – in particular, homophobic slurs," Ball opined. "When you see this kind of behavior, which was apparently accepted by the university for a while, you start to understand why we still have such a problem with homophobia at the professional sports level and at the college sports level."
She said that the paucity of openly gay professional athletes attests to this reality.
"Just to have straight men be fully – to be full human beings, to be allowed to be full human beings, is difficult," Touré interjected. "And when we see, sort of, these fake, macho men from a previous generation criticizing us for wanting to be full human beings, and not just sort of John Wayne caricatures and stereotypes, that's disgusting.
Watch the clip below via MSNBC:
> >Follow Noah Rothman (@NoahCRothman) on Twitter
Have a tip we should know? [email protected]