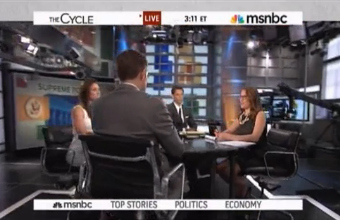 MSNBC's new show The Cycle debuted today during the 3 p.m. hour, starring MSNBC regulars Touré, S.E. Cupp, Steve Kornacki, and Krystal Ball sitting around a circular (get it?) table.
Prior to debut, the show drew a lot of comparisons to Fox News' The Five because of MSNBC's use of an ensemble of hosts. In an interview with the Huffington Post, the hosts all jokingly pretended not to know what The Five is, and the show's executive producer rejected the idea that his show is a carbon-copy. "When 'The Five' started, did you go and ask them if they were doing 'The View'?" he asked. "When 'The View' started, did you ask them if they were doing the 'Today' show?" "The concept of an ensemble show is extraordinarily old," co-host Touré added.
So, now that it has debuted: Is The Cycle really just The Five…but with four hosts…and at 3 p.m?
In some ways, yes.
Like The Five, the hosts take turns hosting specific segments. But in The Cycle's case, each host has his/her own branded segment: Touré's "Toure TV," Cupp's "Per S.E.," Kornacki's "Steve Speak," and Ball's "Krystal Clear."
Some might see The Cycle as a liberal alt-universe version of The Five, where lone-liberal Bob Beckel loses weight, ages backwards, and becomes a beautiful conservative woman named S.E. Cupp. In other words, Cupp is clearly outnumbered on this panel of liberals, and much like Beckel, she is quite able to handle it.
However, The Cycle never actually sees the round-table discussions that would make Cupp the "Beckel" of this show. She never gets to have a heated debate with committed progressive Touré. Instead of chaotic debate among the hosts, The Cycle sets itself apart from The Five by interviewing outside guests that aren't Bill O'Reilly or Donald Trump by phone.
Does it really take four MSNBC hosts to interview one guest? Why have an ensemble of dynamic talkers if you're just going to interview guests via satellite? The Five's strength comes from having five hosts who can rely on interpersonal banter for an hour without a single outside interview.
In the show's closing segment, Touré declared that the show aims to be a "daytime dinner party." So…does he mean a daytime dinner party where you interview people…and never actually converse with each other?
The show also seems to experience a bit of color overload — colors everywhere! Each host has a color assigned to their box when all four (plus guest) are shown in Brady-Bunch-box mode. It's nice because when Touré says something objectionable to conservatives, you get to see S.E. Cupp shake her head instantly, and vice versa. But the boxes also reveal how uncomfortable some of the hosts seem with this new format, namely Ball who, on multiple occasions, seemed confused about where to look.
Perhaps The Cycle should strive to be more like The Five, which has turned out to be quite a profitable model for Fox News, destroying the competition daily, and achieving nearly 2 million total viewers last Wednesday.
Check out a sample segment below, via MSNBC:
>> Follow Andrew Kirell (@AndrewKirell) on Twitter
Have a tip we should know? tips@mediaite.com