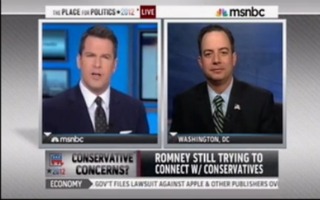 On Thomas Roberts' MSNBC program, Republican National Committee Chairman Reince Priebus engaged in a heated debate over the existence of the "war on women." After rejecting Roberts' premise that there is any "war on women," Priebus turned on Roberts, saying "The most important issue is the economy. It's the issue that you and Barack Obama don't want to talk about."
RELATED: MSNBC's Thomas Roberts' Empty Chair Shtick Backfires, Leads To Apology
When Roberts' shifted focus from the status of the presidential race to the "war on women," Priebus and Roberts got into a heated discussion about its very existence.
"Because it is a fiction, Thomas," said Priebus. "It's a fiction because number one, there is no war on women. It's a fiction because if you believe that all women are pro-abortion, then maybe in your own world there's a war on women."
"I think the word is 'pro-choice,'" Roberts interrupted.
Priebus continued that he believed that women care most about the economy and being able to provide and maintain a stable environment at home. "That war on women is being perpetrated by President Barack Obama," said Priebus.
"But Reince, the fiction you talk about, the phrase 'war on women,' is now being uttered by Republican Mitt Romney," said Roberts who proceeded to play a clip of Romney on the stump. "The real war on women has been waged by the Obama administration on the economy," said Romney at a Tuesday campaign event in Wilmington, Delaware.
"So it's sounds like you've got the messaging going there from Romney because it's the exact same phrasing that you just gave me," said Roberts, isolating a Republican campaign talking point.
"We're just borrowing your messaging" said Priebus. "If you actually look at what matters most to Americans, which is jobs and the economy, it's a war this president is losing."
"But Reince, you can't discount the fact that we almost took the government to the brink of closing over Planned Parenthood," said Roberts.
Priebus appeared stunned and took several seconds to answer the question. Roberts prodded, "did we or didn't we?"
"The world will continue," said Priebus.
Roberts pushed forward, "you say it's a fiction, and you don't want to walk back the fact, you know, 'the war on caterpillars,' that's fine, but how can you say that it's truly a fiction when these laws – 90, spiking in 2011, 90 different anti-abortion laws – across the state legislatures, spiking in the country after the Republicans take back state legislatures and governorships – how do you say it's a fiction?"
"You and I are never going to be on the same page as long as you believe that if you're pro-life you're anti women," said Priebus.
"This is not about what I believe or what I don't believe," responded an indignant Roberts.
"I don't buy your argument," said Priebus. "The most important issue is the economy. It's the issue that you and Barack Obama don't want to talk about."
Watch the segment below via MSNBC:
Have a tip we should know? tips@mediaite.com