MSNBC's Thomas Roberts: ENDA Not an Anti-Discrimination Bill, It's 'BS Detector for Homophobia'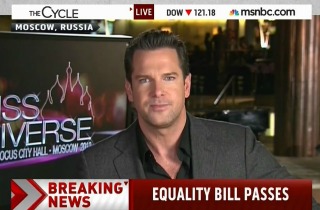 MSNBC anchor Thomas Roberts joined the hosts of The Cycle on Thursday live from Russia where he is hosting the annual Miss Universe pageant. Roberts said that the Employment Non-Discrimination Act (ENDA), which prohibits employment discrimination for issues relating to gender or sexual orientation, is merely "a BS detector for homophobia."

Roberts, an openly gay man, joined The Cycle hosts minutes after the Senate overwhelmingly passed ENDA.
"I think that we have moved forward as a country in leaps and bounds," Roberts said of passage of that anti-discrimination bill. "It wasn't that long ago that we had major steps in reverse."
He expressed concerns, however, that the bill that was passed in the Senate would not get passed the Republican-controlled House.
Ari Melber pointed out the "mixed politics" associated with this issue, saying that gay marriage rights are, in ways, less controversial than this anti-discrimination bill.
RELATED: Jay Carney Applauds Senate Passage of ENDA: To Oppose Is to Be 'Left Behind by History'
"Think about what ENDA really is," Roberts said, "It's not so much a special protection for the LGBT community. It's basically a BS detector if homophobia."
"There really is no reason not to have something as simple as that in most of our everyday lives now, especially since we know where the White House stands, we know where the Supreme Court stands, and now we're watching like a domino effect, state by state, marriage equality going through," Roberts continued. "So, it's only a matter of time before this actually happens. But I like to think of it as a little BS detector for homophobia."
Opponents of ENDA have said that it does not adequately protect religious employers from being sued for discriminating against gays, lesbians, and transgendered people which could be considered a violation of the First Amendment. Others have noted that the law is likely to inspire a number of legal challenges which will tie up American courts.
Watch the clip below via MSNBC:
[Photo via screen grab ]
— —
> >Follow Noah Rothman (@NoahCRothman) on Twitter
Have a tip we should know? tips@mediaite.com