MSNBC's Thomas Roberts Offers Glimpse At His Upcoming, History-Making Wedding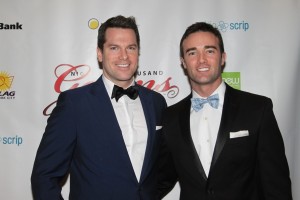 MSNBC host Thomas Roberts is set to make history this September when he becomes the first cable news anchor to have a legal same-sex wedding. Roberts will marry his partner of 12 years, Patrick Abner, at a hotel in Manhattan.
And, as he told TVNewser, he's nervous about whether the celebration will go off without a hitch, even though the couple has taken care "not to overdo it" as far as the ceremony is concerned.
Roberts also revealed another challenge to wedding planning: "I'm cheap." He joked that his father "always liked the term 'cost effective.' Neither one of us comes with a dowry. We have a number, and we're sticking to it." He's also focused on getting fit(ter — dude is already pretty jacked) before the ceremony, noting that everyone wants to look his best on his big day. "I want to look damn good," he says. "I think all people do."
The daytime anchor also revealed that, while his comfortable discussing his upcoming wedding, it's not something he'd been able to think too much about growing up:
Roberts, who came out publicly in 2006, has no qualms about discussing his nuptials. "I'm confident and comfortable with who we are and where we are. I don't have a problem talking about it. The more people that do, the better. … The world will continue to rotate on its axis. We're all on this big rock together."

Growing up, Roberts never thought he'd be able to marry the person he loved and build a life together. "As a gay kid, that's heartbreaking," he says. "It's been hard to dream of a day like today. I've had to play catch up in my head, in a lot of ways, to realize that this is achievable."
h/t TVNewser
Have a tip we should know? [email protected]