MSNBC's Todd: Dems Can't Run From Obamacare, 'Voters Will Know You're Full of It'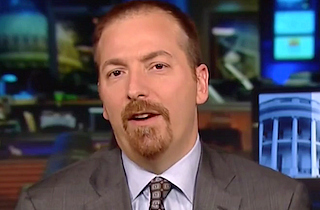 During a diagnosis of Democrat Alex Sink's defeat in a Florida special election yesterday, MSNBC anchor Chuck Todd told a Morning Joe panel Wednesday morning that midterm Democrats would gain nothing by distancing themselves from Obama and the Affordable Care Act, as it would come off as a transparent campaign ploy.

His comments followed those by Democratic strategist David Axelrod, in which Axelrod argued that Democrats needed to figure out how to reenact presidential-year level turnout.
RELATED: Scarborough: Dem's Defeat in Florida Sets Up 'Historic' 2010-like Midterm Rout
"In the ideal world that David described, in talking about trying to get Democrats motivated to the polls, you wouldn't have the candidates themselves be afraid of President Obama," Todd said. "I kind of think all of those dances, predictable dances — we saw it with Republicans in '06 with Bush, we saw it with Democrats with Clinton in '98 — I happen to think it's a mistake. If you're a Democrat and you go out there and say, 'Oh man, health care, it scares me, I don't want want President Obama around,' voters are going to know you're full of it, that you're just playing a game with them."
Todd added that most polling indicated the Affordable Care Act was not an electoral liability, especially not with independents, who tipped toward amending the law rather than repealing it, but that Democrats had not found a way to avoid sounding "defensive" about the law.
Watch the clip below, via MSNBC:
[Image via screengrab]
——
>> Follow Evan McMurry (@evanmcmurry) on Twitter
Have a tip we should know? tips@mediaite.com