MSNBC's Touré And Goldie Taylor Slam Drudge For Race 'Peddling' With Anti-Tarantino 'N*gger' Headline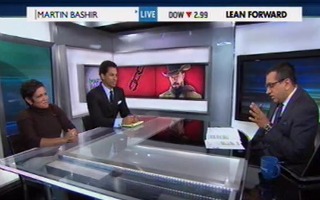 MSNBC contributor Goldie Taylor and host Touré joined Martin Bashir on Wednesday where they lambasted the Drudge Report and its proprietor, Matt Drudge, for running a headline which featured the "N-word" nine times under a picture of filmmaker Quentin Tarantino.
The headline in question criticized Tarantino's new film in which Jamie Foxx plays a freed slave who returns to kill his slave masters. Taylor, however, thought Drudge's headline catered to a base group still coping with frustration over President Barack Obama's race.
On Wednesday, the Drudge Report ran this headline linking to a report on Tarantino's new movie Django Unchained:

Bashir asked for Taylor's reaction to the right's newfound "war on Jamie Foxx."
Taylor said that Drudge would never become an arbiter of "what is racially unacceptable in this country." She savaged his site for peddling material like this to "line their own pockets."
"In terms of a war on Jamie Foxx, for making a mockery for the world that is Matt Drudge, I mean, how black is that?" Taylor jokingly asked, in reference to Foxx's controversial SNL monologue.
"How black is that," Touré agreed.
Taylor insisted that Foxx has regularly made fun of "that far-right fringe" that is frustrated with the fact that the President of the United States is black, implying that Drudge's anti-Tarantino headline caters to this group.
"They want their country back," said Taylor, noting that a recent poll showed that many on the right support the ability to secede from the Union. "It isn't just because of socialism that they would like to secede, it's because the man in the White House is black."
Watch the clip below via MSNBC:
> >Follow Noah Rothman (@Noah_C_Rothman) on Twitter
Have a tip we should know? tips@mediaite.com