MSNBC's Touré: MLK's Vision Was for Gov't to Provide All with Income and Jobs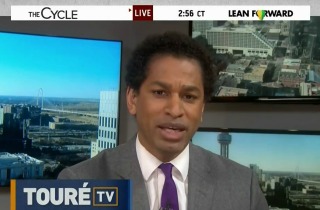 MSNBC host Touré celebrated Dr. Martin Luther King Jr. Day on Monday in a unique fashion. He sought to correct the record about King's legacy by insisting that the civil rights leader advocated for, as part of his war on poverty, a guaranteed income and an occupation. He added that access to government benefits, like food stamps, result in general outcomes for those that enjoy them than those who do not.

Touré began by playing a clip of King lamenting the condition of so many whites in the 1960s receiving farming benefits who did not earn them. Touré said that King's final crusade against poverty was his last campaign.
The MSNBC host said that King advocated for an "economic bill of rights that would provide a guaranteed income that would make sure that every American had a concrete amount to spend each year."
"He meant for government to ensure every American a reasonable income that would be linked to inflation," he continued. "Government would also have a responsibility to create jobs." Touré added that King was in the process of "drafting a multi-racial army of the poor to dramatize their plight" just prior to his assassination.
Touré pivoted to today, insisting that data shows the 1964 War on Poverty is not a failure. "And children who grow up with access to food stamps grow up healthier and more likely to finish school than kids without food stamps," he insisted.
"Intergenerational class mobility is nearly impossible in modern America," Touré added as justification for an expanded safety net. "The rich are, of course, their own safety net. The poor are set up to fail."
Watch the clip below via MSNBC:
Visit NBCNews.com for breaking news, world news, and news about the economy
[Photo via screen grab ]
— —
> >Follow Noah Rothman (@NoahCRothman) on Twitter
Have a tip we should know? [email protected]