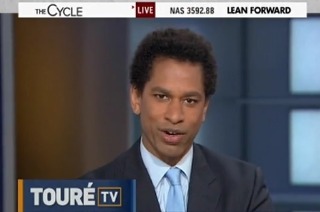 MSNBC host Touré condemned the New York City policing strategy known as "stop-question-and-frisk" on Monday. He dismissed the NYPD's claims that the program has been found unconstitutional unfairly by a New York district court. Touré reported that NYPD officers have informed him that "racial profiling" is a major part of that program and police are "discouraged" from stopping suspicious individuals who are white.

Touré began by playing a clip of New York City Police Commissioner Ray Kelly defending the practice on NBC's Meet the Press, saying that most of the lives saved by that program are minority lives.
"He's saying lots of crimes are committed in black and brown neighborhoods so it's going to treat everyone in those neighborhoods like criminals," Touré asserted. "That is a justification for racial profiling, which the Mayor [Michael] Bloomberg says in his Washington Post editorial today he has zero tolerance for."
RELATED: Conservative Amy Holmes Scorches Discriminatory 'Stop-And-Frisk' On MSNBC
"Police officers have told me it 'stop-and-frisk' involves is racial profiling," the MSNBC host claimed. "The trial gave us stories of white people doing suspicious things and officers being discouraged from stopping them."
"Do you see how policing blacks via the presumption of guilt and policing whites via the presumption of innocence becomes a self-reinforcing mechanism?" Touré asked.
Touré goes on to attack the claims that the controversial NYPD program is effective. He cites statistics which purport to show the program is "worse than random" in its success rate at capturing illegal guns.
"Don't black Americans have a right to walk down the street without getting mugged by police?" Touré concluded.
Watch the clip below via MSNBC:
> >Follow Noah Rothman (@NoahCRothman) on Twitter
Have a tip we should know? tips@mediaite.com