MSNBC's Touré, TIME Reporter Go Off on GOP'ers Living in 'Bubble' of 'Fake News'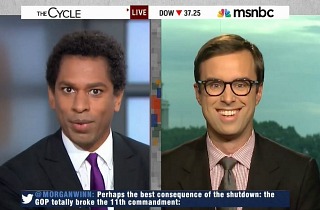 Pots and kettles. On Thursday, the hosts of The Cycle on MSNBC had a bit of fun at the Republican Party's, and specifically Sen. Ted Cruz's (R-TX), expense. Following the end of the ill-fated government shutdown, TIME Magazine's Michael Scherer and MSNBC host Touré mocked the insulated "bubble" that Republicans live in and the "fake news" they consume.

Speaking of Cruz, Touré began the segment by calling him a "caricature of Republicanism."
"Is he a performance artist doing a piece about modern conservative or is he perhaps a sleeper agent sent from the Democratic Party to help damage the Republican Party," the MSNBC host asked.
"I would go with performance artist," Scherer agreed. He added that Curz's recent behavior was simply the culmination of a trend on the right that has been accelerating over the past half-decade.
"They'll create a reality bubble around them to play to a particular audience that wants to hear that side of the story," Scherer said. He noted that this is often a bipartisan phenomenon that occurs primarily around elections.
Finally, Scherer observed that Cruz is willfully and intentionally refusing to acknowledge that his recent tactics and his personal image have both taken a dive in in the polls. Imagine that.
"That's what happens when you live in a bubble with fake news and people who believe that fake news that you're also hearing," Touré observed.
Watch the clip below via MSNBC:
[Photo via screen grab ]
— —
> >Follow Noah Rothman (@NoahCRothman) on Twitter
Have a tip we should know? tips@mediaite.com