MSNBSad: Jon Stewart Laughs Through 'All The Stages Of Grief' In Wisconsin Coverage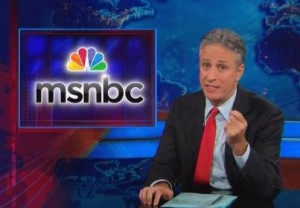 Wisconsin recall coverage was at the top of Jon Stewart's agenda today, from the hilarity he found in Governor Scott Walker soundly winning his election again to the coverage on respective cable news networks. On Fox News, he found what was essentially a touchdown dance; on "MSNBSad," the many, many stages of grief– from denial, to more denial, and even more denial.

RELATED: Voter Cries Over WI Recall: Signaling Death Of Democracy, 'End Of USA As We Know It'
Wisconsinites "moved to recall him like a non-union lead toy made in a Chinese sweatshop," joked Stewart of Walker, turning to election results and fully expecting a defeat. Instead, he noted, "the people have spoken, saying– 'Oh sorry, you didn't hear us the first time?'" The result was Fox News calling the event a "spanking" and celebrating right through it, while Ed Schultz was, in Stewart's words, "shocked, stunned, and devil-heart-f*cked." And then there was Lawrence O'Donnell, calling President Obama the "real winner" of the recall, which led Stewart to muse on how President Obama came up with the idea for Walker winning reelection: "Hey guys, I got an idea– let's have the core of what we believe soundly rejected by voters of a swing stand five months before the national election!" Among other highlights: the man who began crying over the "death of Democracy" and Rachel Maddow predicting Republicans will "run uncontested in every election forever," which Stewart found a teeny bit over the top.
Resident Canadian Samantha Bee also came by to ask what was going on in Wisconsin– why "the closest thing this country has to Canadians" had been acting so "douchey"– so badly, Stewart compared them to New Yorkers.
The segment via Comedy Central below:
Part 1:
Part 2:



—–
» Follow Frances Martel on Twitter
Have a tip we should know? tips@mediaite.com