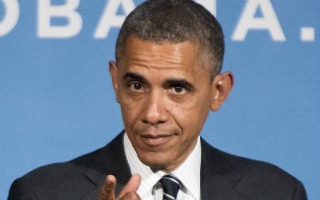 Seemingly reaching out to the younger demographic, president Barack Obama will appear on MTV this Friday and answer questions posed by fans of the network's Facebook page for the Power of 12 campaign.
The live 30-minute interview, which is set to air at 5/4 CT, will be conducted by MTV's Sway Calloway, who is going to pass on viewers' questions to our nation's leader. MTV's Facebook page explains how to send an inquiry the president's way:
And we want to hear from YOU. Ask your question in the comments below, and be sure to include your name, age and hometown or where you currently reside (your choice). Then tune in to hear if the President answers your question LIVE on MTV, MTV.com, and MTV Mobile.
In case you were worried, just know that MTV has also invited Obama's rival, Mitt Romney to be interviewed for a half hour segment, and the network "hope[s] to bring it to you in advance of Election Day."
If Romney declines the offer, this would be the second youth-oriented TV network he has blown off as of late. A couple weeks ago, Obama participated in Nickelodeon's "Kids Pick the President" event and Romney failed to do the same, reportedly justifying he had other things on his plate. Deputy national press secretary Adam Fetcher found fault with the conservative's move, telling TMZ:
"It's no surprise Romney decided to play hookey. Kids demand details, and I'm sure they want some answers on why Romney could increase their class sizes, eliminate their teacher's jobs, raise taxes on their families and slash funding for Big Bird."
Unsurprisingly, Obama won "Kids Pick the President."
—
Follow Laura (@LauraDonovanUA) on Twitter
Have a tip we should know? [email protected]