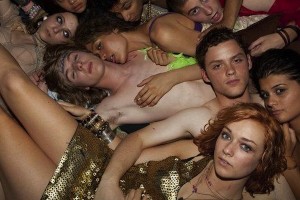 If you haven't yet heard of Skins, MTV's latest attempt to lead American youths down a path of promiscuity and debauchery, you may be flat lining.  Over the past week, media coverage has been rampant, as pundits and journalists have warned of the show's potential federal pornography violations, as well as the danger it poses to America's youth.  If you've missed the hoopla, allow me to catch you up:
MTV recently began airing the scripted series, which – to sum it up – places young teens in more-than-adult scenarios.  Skins is an adaptation of an even raunchier British series (go figure).  Within days of the show's premiere, The Parents Television Council (PTC) came out strongly against the program, calling it the "most dangerous show" on television and asking that Congress investigate allegations that MTV violated federal pornography laws.  Upon examining the evidence, it doesn't take a conservative world-view to find oneself fully supportive of the PTC's wrath.  The WSJ's Speakeasy blog provides just a few of the show's highlights:
In the first episode…a girl sneaks home after a debauched night of partying. A boy has decorated his bedroom with porno magazines (and not Playboy, the hardcore kind). Another girl is willing to trade sexual favors for drugs. Later, that same girl pops too many pills and has to be rushed to the hospital. In a later episode, another boy takes sexual performance pills and spends the entire hour with a visible erection.
While MTV has certainly crossed the line in the past (I remember watching episodes of Undressed years ago), the morally-deficient level to which Skins sinks diminishes what little credibility and consideration for its audience the network has left.  Certainly many will argue (and rightfully so) that parents have a responsibility to shield their children from shows like Skins and that it's not MTV's responsibility to shield kids from its programming.  Unfortunately, reality makes such a conclusion incomplete at best.
We live in a world in which parents work long and grueling hours; kids can easily sneak around the rules.  Furthermore, even if we conclude that 100 percent of the responsibility should be placed on parents – and even if parents are successful at blocking MTV or preventing their children from watching "Skins" –the network's web site streams free episodes of the show 24/7 (so, if teens and tweens miss it at 10 p.m., they can easily catch it any time they'd like).
What's most confusing about this show is that the network is fully aware of its core audience.  Regardless of what time it airs, young people are watching (or desperately attempting to watch) "Skins."  These same young people are impressionable sponges.  They're learning who they are, how they should conduct themselves, what their boundaries are – and this is what MTV has to offer them?  This is the same network that once touted a highly-publicized campaign to inspire young people to engage in "safe sex" (Fight For Your Rights: Protect Yourself).  One wonders how severe MTV's bi-polar disorder is, as its communications lines and "positive" messaging seem to be crossing.
I know the economy is still lagging, but are things truly so bad for MTV that the network finds it necessary to exploit underage actors, while capitalizing on the naivety, desires and inexperience of a young – and, sad to say –experience-deficient audience?  I'm so tired of media outlets having no regard for the negative impact their programming has on young consumers, as they occasionally launch half-witted campaigns that they hope will balance the negativity they continue to slow-drip into our society.  Am I calling for government-sanctioned censorship?  Of course not.  I'm simply asking for networks that have an impact over young viewers to occasionally consider the negative impact of their programming before concentrating their sights solely on profits.
"Skins" debuted with 3.3 million viewers, which is considered highly successful for cable.  Sadly, Nick Leshi writes that MTV "boasts that its key demographic audience is 12-to-24-year-olds."  Most sources confirm that "Skins" was highly successful among Americans ages 12 to 34.  Yes, that's right. Twelve-year-olds are watching the show.  When will our society learn?
We are perplexed and disgusted (as we should be) by tales of second graders having oral sex in public school classrooms, by the nation's monumental problems with adolescent drug use and by the countless issues we see with bullying, personal image and the like.  Media outlets and entertainment venues continue to provide our children with the most vile and incomprehensibly stupid examples of how to make the world's worst decisions.  Inevitably, shows like "Skins" glorify grotesque behaviors, while making them appear normative.
Why are we surprised by the decline in morality among America's youth when we fail to put pressure on networks, music producers and other entertainment companies to act responsibly?  If Hillary Clinton was right and it truly does "take a village," then MTV should surely take heed.
Have a tip we should know? tips@mediaite.com