Murder Suspect Chris Dorner Praises And Attacks Cable News Personalities In His Cop-Killer 'Manifesto'
Murder Suspect Praises And Attacks Cable News Hosts In Cop-Killer 'Manifesto'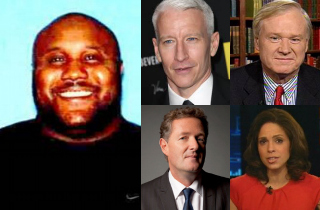 As the manhunt continues for the former LAPD officer accused of killing a young couple and firing on police officers Thursday, his 24-page "manifesto" released to the press implicates him as an intended "cop killer," and also lays out his praise or disliking of various cable news personalities from all the major networks.
Towards the end of his massive letter, former officer Chris Dorner makes direct mention of cable news hosts and analysts from ABC, CNN, MSNBC, NBC, and PBS. The accused murderer wrote: "Chris Matthews, Joe Scarborough, Pat Harvey, Brian Williams, Soledad Obrien [sic], Wolf Blitzer, Meredith Viera [sic], Tavis Smiley, and Anderson Cooper, keep up the great work and follow Cronkite's lead. I hold many of you in the same regard as Tom Brokaw and the late Peter Jennings."
He then offered criticism of Cooper's CNN interview style: "Cooper, stop nagging and berating your guest, they're your (guest)."
And he wanted to let MSNBC's Morning Joe host know of their past encounter: "Mr. Scarborough, we met at McGuire's pub in P-cola in 2002 when I was stationed there. It was an honor conversing with you about politics, family, and life."
The suspect, currently the subject of a widespread manhunt in Southern California, also laid out his praise for young Today Show co-host Willie Geist: "you're a talented and charismatic journalist. Stop with all the talk show shenanigans and get back to your core of reporting. Your future is brighter than most," he wrote.
Dorner also apparently takes great issue with CNN reporter Fareed Zakaria, demanding that the government revoke his citizenship and deport him immediately. "I've never heard a positive word about America or its interest from his mouth, ever," the former police officer explained.
However, on the same day he would like for authorities to deport Zakaria, the accused killer asks that they "give Piers Morgan an indefinite resident alien and Visa card." Then, addressing Morgan directly, Dorner expressed support for the British anchor's gun control advocacy.
Dorner also wrote that CBS Los Angeles anchor Pat Harvey, has always "carried yourself professionally and personally the way a strong black woman should. Your articulation and speech is second to none. You are the epitome of a journalist/anchor. You are America."
Syndicated talk show host and comedian Ellen Degeneres also received some of Dorner's praise. He wrote:
[C]ontinue your excellent contribution to entertaining America and bringing the human factor to entertainment. You changed the perception of your gay community and how we as Americans view the LGBT community. I congratulate you on your success and opening my eyes as a young adult, and my generation to the fact that you are know different from us other than who you choose to love. Oh, and you Prop 8 supporters, why the fuck do you care who your neighbor marries. Hypocritical pieces of shit.
Dorner also heaped praise upon CNN analysts Jeffrey Toobin and David Gergen, calling them "political geniuses and modern scholars," adding that he hopes Toobin "is nominated for the Supreme Court" even though "we all know he would not accept the nomination."
The former officer also did not mince words about various political figures. On Vice President Joe Biden, he wrote: "I've always been a fan of yours and consider you one of the few genuine and charismatic politicians." On New Jersey Gov. Chris Christie, the accused killer wrote: "What can I say? You're the only person I would like to see in the White House in 2016 other than Hillary. You're America's no shit taking uncle." He also asked the popular Republican to try and lose weight so that he may live longer.
Dorner tore into National Rifle Association CEO Wayne LaPierre, calling him a "vile and inhumane piece of shit" who "never even showed 30 seconds of empathy for the children, teachers, and families of Sandy Hook." For that, the accused cop-killer wrote, "May all of your immediate and distant family die horrific deaths in front of you."
— —
>> Follow Andrew Kirell (@AndrewKirell) on Twitter
Have a tip we should know? tips@mediaite.com