Muslim Author Reza Aslan: I Knew 'What I Was Getting Into' By Going On Fox News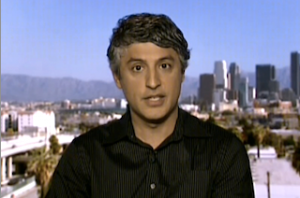 Reza Aslan had recovered enough from his dumbfounding weekend experience on FoxNews.com's streaming show to react to what happened on The Majority Report with Sam Seder. Aslan said he "kind of had an idea what I was getting into" with the interview that ended up calling into question his credentials for writing about Jesus as a Muslim.
"Well, yes. I'm familiar with Fox News for sure," Aslan told co-hosts Matt Binder and Michael Brooks on the radio show Monday afternoon. "They did a few days before the interview publish an attack piece on me. So I kind of had an idea what I was getting into."
Fox host Lauren Green repeatedly attacked Aslan's ability, as a Muslim, to write his recent book, Zealot: The Life and Times of Jesus of Nazareth (currently #1 on Amazon
), about Jesus in a historical context. Green asked Aslan, "Why would you be interested in the founder of Christianity?" and accused him of hiding his Muslim faith in other media appearances.
"The philosophical backbone of [Green's] question is that it would be impossible for someone to write about Jesus without some kind of faith-based prejudice," Aslan said Monday. "It's weird to all of a sudden talk about it, that only practitioners of a faith can talk about that faith. If that were true, there would be a lot fewer books about Islam in America."
Watch Reza Aslan discuss his appearance below, on The Majority Report:
Also, in case you missed Aslan's appearance on Fox News, you can watch it in its entirely below:
(h/t TPM)
—
>> Follow Matt Wilstein (@TheMattWilstein) on Twitter
Have a tip we should know? tips@mediaite.com