Muslim Brotherhood Member Explains 'Average American' To Egyptian TV: 'He Has Huge Body, Eats Like A Pig'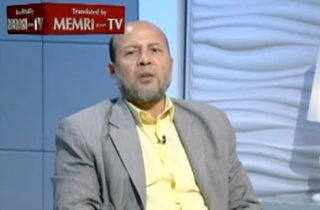 As Egyptians vote over a new constitution, the Middle East Media Research Institute (MEMRI) unearthed an Egyptian TV interview witha leader of the Muslim Brotherhood-led Freedom and Justice Party, in which he characterizes Americans as obese pigs and cows who got their "thieving nature" from Jewish people.
The politician, Mahmoud Khalil, explained to Al-Nas TV that the average American is not interested in politics, but rather, "he has a huge body, eats like a pig."
Actually, only 35.7% of American adults are obese. So… not exactly "average." Wait — why am I humoring this guy?!?!
Khalil continued: "He is like a raging bull or a runaway train. America is marching toward its death. It has the greatest debt int he world."
"Nevertheless it is the mightiest power on Earth," the interviewer added.
"Yes, I hear you, but the American citizen is after his best interests, not after values," Khalil responded. "America is over. It is a thing of the past."
Why is America over? Because, Khalil said, "America is involved in global thievery," which they learned from "the Jews."
Americans are "not the cowboys, they are the cows," he added. And Jewish people? "They are money merchants."
"Throw a Jew into the sea, and he will emerge with a fish in his mouth," he concluded.
The interview aired in September but was revealed to the West this week by MEMRI in light of the Egyptian constitutional vote and Khalil's party ties to the Muslim Brotherhood.
Watch below, via MEMRI:
[h/t TheBlaze]
— —
>> Follow Andrew Kirell (@AndrewKirell) on Twitter
Have a tip we should know? tips@mediaite.com