Muslim Woman Kicked Out of Trump Rally Speaks Out: 'They Were Saying Ugly Things'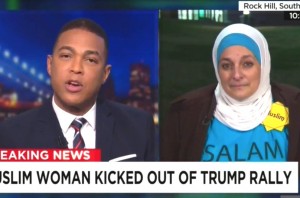 On Friday night, Muslim flight attendant (now, there's a tough job) Rose Hamid was escorted out of a Donald Trump rally in Rock Hill, South Carolina after she stood silently for a few moments being Muslim. Hamid wore a t-shirt that said "Salam: I Come In Peace," as well as a yellow Rub el Hizb symbol meant to evoke the patches worn by Jews in Nazi Europe.
After her ejection, Hamid told CNN's Don Lemon about the experience, which she said included Trump supporters asking her "Do you have a bomb?" (to which she replied "No, do you have a bomb?") and derisively taunting her with Arabic religious phrases.
Hamid said she attended the rally with the "sincere belief if people get to know each other one-on-one they will stop being afraid of each other and we can get rid of the hate in the world," which was apparently going well for a time, until it wasn't.
There were people who were very nice and sharing their popcorn. It was very nice, people around me, the people I had conversations with. But then what happened when the crowd got this hateful crowd mentality as I was being escorted. It was really quite telling and a vivid example of what happens when you start using this hateful rhetoric, and how it can incite a crowd where moments ago were very kind to me. One woman reached over and shook my hand and said "I'm so sorry this is happening to you."
Watch the interview above, from CNN.
Have a tip we should know? tips@mediaite.com