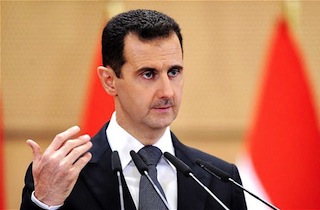 Every a.m., Mediaite publishes a primer of what the interweb machine is writing, talking, tweeting, and blogging about, so that you may fool friends and family into thinking you are a trove of information and insight. Today: the ballad of the Syrian peace talks, violence in that country and Ukraine, in depth on a recent drone strike in Yemen that killed twelve people, and more.

"How Iran Played the U.N. — and Drove the U.S. Nuts" (Colum Lynch and John Hudson, Foreign Policy)
So this isn't going well: the Syrian peace talks, which began today in Geneva, Switzerland, are already imperiled. It was enough of a challenge getting the Syrian rebels to the table (by contrast, Assad's government gets an image boost by participating), but now U.N. Secretary General Ban Ki-moon has—how shall we say—screwed the pooch, first inviting and then hastily disinviting Iran to the talks. (Iran is one of Assad's primary backers.) It appears he got assurance from Iran's foreign minister that the country would endorse a power-sharing agreement that would transition Assad out of office, but Iran reneged on this assurance as soon as they got the invitation. Even Ban Ki-moon's people think he got played.
Kerry: 'No way' al-Assad Can Be Part of a Transitional Government in Syria (Jethro Mullen, Elise Labott and Saad Abedine, CNN)
The talks themselves got off to a rough start Wednesday morning, as both Ban Ki-moon and Secretary of State John Kerry clashed with Syria's Foreign Minister Walid al-Moallem, who resisted Assad's departure from power as an inevitable consequence of the negotiations:
"No one, Mr. Kerry, no one can grant or withdraw the legitimacy of the President other than the Syrians themselves," al-Moallem said. "This is their right and duty."

The Syrian official also clashed with Ban, who tried to cut him off several times. But al-Moallem wouldn't stop talking.

"You live in New York. I live in Syria," al-Moallem told the U.N. chief.
"Violence Across Syria as Peace Conference Begins" (Associated Press)
Meanwhile, warfare between Syrian rebels and Assad's army escalated in multiple Syrian cities in the wake of a noxious report about Syrian human rights abuses that has many calling for Assad to be tried for war crimes. In addition to battling Assad's government, the Syrian rebels also have a surging al Qaeda affiliate to deal with, one not interested in the peaceful resolution of anything.
"Ukraine protests: Two people killed in Kiev clashes" (BBC)
Protests in Kiev have turned violent (again) in the last couple days, with at least two dead. Protests started last fall over the disintegration of Ukraine's entry into the EU thanks to Russian pressure. Last night, clashes between protestors and police involved rocks, fireworks, and at least one firebomb. President Viktor Yanukovych is meeting with opposition leaders in hopes of quelling the violence.
"What Really Happened When a U.S. Drone Hit a Yemeni Wedding Convoy?" (Iona Criag, Al Jazeera America)
Al Jazeera America's Iona Craig talks to survivors of a December drone attack of a Yemeni wedding procession that twelve eleven dead. There's plenty in here about the chaos and unaccountability of the U.S. drone program, but the descriptions of watching a drone attack you are absolutely harrowing:
The sound of a drone has been an ever-present backdrop to daily life in this province over the past two years. But it suddenly changed. The pilotless plane paused overhead, as if waiting with them. Driving at the front of the convoy in his Toyota Land Cruiser with seven passengers, Fatah Salem looked up.

Seconds before the first lethal missile fired, three men in a Toyota HiLux – three vehicles behind Fatah's Land Cruiser – seemed to anticipate what was about to happen. They abandoned their pickup truck, and bolted across the pale gray sand.
[Image via AP Photo/SANA]
——
>> Follow Evan McMurry (@evanmcmurry) on Twitter
Have a tip we should know? tips@mediaite.com