MUST SEE: Amazing Interview With Hatchet-Wielding Homeless Hitchhiker Who Took Down Man Claiming To Be Jesus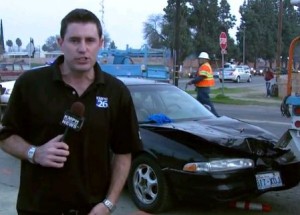 Local news is an often-wonderful, even-more-often-bizarre place. And never was the latter more evident than in a recent story that aired on KMPH FOX 26 in Fresno, Calif. About a man claiming to be Jesus and the homeless hitchhiker who saved the day with a hatchet.
For starters, here's what happened: A man claiming to be Jesus apparently plowed his car into a PG&E (Pacific Gas and Electric) worker — pinning him between the car and his truck — because he was black. Two women who were nearby ran over to help, but witnessed a crazy scene.
"The guy just went crazy and was trying to pull the guy from underneath the car and the truck, and then he gets in his car and tries to move the car… and we weren't going to let him do it," one of the women, Tanya Baker, told KMPH's Jessob Reisbeck. "He just kept saying he's Jesus Christ and he's going to save all of us… but we have to get — he used the n-word, meaning the black people… and we need to get them off the earth."
The worker was treated for non-life threatening injuries (two broken legs) at the hospital. But the story still wasn't over. The driver evidently also went after one of the women (a "bear hug" turned into "beating the crap out of me").
Enter homeless hitchhiker Kai (who was in the car with the crazy driver). "Like a guy that big can snap a woman's neck like a pencil stick," he told Reisbeck. "So I fucking ran up behind him with a hatchet — smash, smash, suh-mash!"
Tanya said that saved her life. The driver, described as over six feet tall and around 300 pounds, had a cut on the head after the incident.
But the story that aired on KMPH wasn't the whole story. Reisbeck later posted the raw, unedited video of his interview with Kai. And it is nothing short of amazing.
Speaking to Reisbeck, Kai prefaced the interview by offering a message: "No matter what you've done, you deserve respect. Even if you make mistakes, you lovable. And it doesn't matter your looks, skills, or age, your size or anything — you're worthwhile. No one can ever take that away from you."
He went on to offer a profanity-laced narrative of what happened, including some choice anecdotes from his interaction with the driver in the car ("He's like, 'I raped this 14-year-old,' and starts crying and gives me a big hug.'")
"Dude, that guy was fuckin' kooked out, man," he told Reisbeck. As for himself, he said his name was Kai and doesn't have a last name ("no, bro, I don't have anything").
The rest of the interview is worth a watch, but I'll leave you with this: "I'm like, 'Bro, if you're fuckin' Jesus Christ, I'll be the anti-Christ, man, like fuck that shit."
Here's the story that aired on KMPH:

And there's the unedited interview with Kai (NSFW):

Have a tip we should know? tips@mediaite.com