Must Watch: Ron Paul Squares Off Against MSNBC's Alex Wagner in Explosive Interview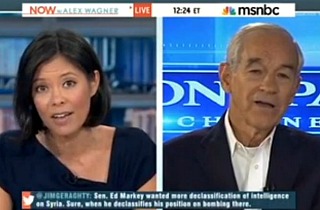 Former Rep. Ron Paul (R-TX) joined MSNBC's Alex Wagner on Thursday for a wide-ranging and contentious interview focused on President Barack Obama's push for American intervention in the Syrian civil war. What followed was a tense and heated exchange between the two ideologically unaligned figures about the need for intervention in Syria, American foreign policy in general, and Paul's speaking before "anti-Semitic" groups.

Wagner opened by asking about a recent interview Paul conducted with Wikileaks founder Julian Assange on his web-based interview program, but the conversation quickly turned to the push for intervention in Syria.
Paul questioned the "so-called gas deaths" in Syria supposedly ordered by President Bashar al-Assad and suggested that pro-intervention advocates have absolved the rebel factions fighting against Assad of any malfeasance.
"Do you really think President Obama is looking for a reason to go to war in Syria," Wagner asked She noted that the president has been reluctant to go to war.
"I think the pressure comes from the people around him," Paul said. "It might be contradicting some of his self-instincts."
Paul said that the leadership of both the Democratic and Republican Parties in Congress are behind Syrian intervention in opposition to rank-and-file opinion.
"I think there's a historic event going on here and if this vote is won, that is defeat the request to have a more military approach to Syria, I think it'll be historic," Paul said. He noted that such a defeat would be an unusual alignment of the "libertarian Republicans" and the "progressive Democrats."
Wagner appeared to agree with Paul but countered his assertion by saying that it was the president's push for an unpopular war in Congress which united Democrats and Republicans against him. "Do you not applaud the president for making that decision?" Wagner asked.
Paul did not. He said that the president came under pressure and did not seek Congressional authority out of deference to the Constitution.
"In terms of surveillance, how confident are you that we are seeing the end of what has been termed the American empire in terms of a broad overreach and surveillance of Americans citizens" Wagner asked.
"We haven't' seen the end of it," Paul replied. "Tyrants and empires cling desperately, and their best weapon is lying."
Paul said the "people are waking up" and he was encouraged by a close vote in the House in which the Amash/Conyers Amendment to scale back the powers of the National Security Agency was narrowly defeated.
Paul added that this problem would also be solved if the "conspiracy" of the American government to "run all these wars" was ended and American troops came home.
"We haven't proven any lies yet from this administration," Paul said. "But believe me, there's going to be found many, many deceptions."
Wagner took issue with this statement. "Don't you think this is sort of irresponsible?" she asked.
Paul went on to say that there is little proof to suggest that Assad is behind the use of chemical weapons in Syria. "Quite frankly, if they were honest with us – some are, some of the neo-cons are more honest, Tehran is – this is all to do with getting Iran and taking that country over, and we've been doing that since 1953," Paul asserted.
Wagner asked Paul about his speech coming up at the Fatima Center, which she said has been accused of being an anti-Semitic organization. Asked if he would reconsider this speech, Paul said "no."
Wagner cited some of the items in that group's charter that led some to believe the organization is anti-Semitic. "I have nothing to do with that," Paul said. "Sounds to me like you have me on here to bash Catholics."
"There have been a lot of folks that have been involved with your campaign, supporters, newsletters that have been accredited to you that have strong anti-Semitic, racist undertones," Wagner said.
Paul said that he has been dealing with accusations like these his whole political career. "When people disagree with your ideas they have to destroy your character," Paul insisted."
Watch this segment below via MSNBC:
[Photo via screen grab]
— —
> >Follow Noah Rothman (@NoahCRothman) on Twitter
Have a tip we should know? tips@mediaite.com