Must Watch: Wolf Blitzer and Michele Bachmann Brawl Over the Benefits of Obamacare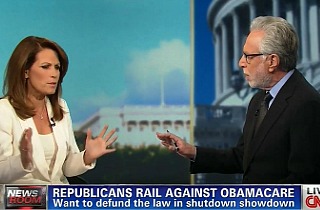 CNN anchor Wolf Blitzer engaged in a tense and heated exchange with Rep. Michele Bachmann (R-MN) on Friday over a House GOP effort to defund the Affordable Care Act or force the government into a shutdown. The argument became animated over a variety of assertions Bachmann made, at one point prompting Blitzer to insist that what she asserted was flatly "not true."

Blitzer began by asking Bachmann to explain her assertion that the ACA will result in the deaths of women, seniors and children.
"That's the greatest fear that Americans have," Bachmann explained. "It'll be very unpleasant if the death panels go into effect – that's the IPAB board. If we have denial of care for women, children, senior citizens, or if we have problems where people aren't given the drugs that they need – maybe they'll be denied drugs for breast cancer – you bet this can happen."
"But millions and millions of Americans will now have health insurance," Blitzer said.
Bachmann and Blitzer battled over whether the ACA expands access to health insurance in practice as well as theory.
"Is it good or bad that children can now be on their parent's health insurance policies until they reach the age of 26?" Blitzer asked.
"When it's done between private parties," Bachmann replied. They argued over whether that policy should be the law and not a private arrangement.
Blitzer asked if insurance companies should be able to deny coverage due to a preexisting condition. Bachmann said that they should not, and "over 30 different states had preexisting condition plans."
They argued over whether this should be the law, as it now is, rather than a state and private issue. 'I don't agree with the mandate," Bachmann said.
"If you don't agree with the law, there are ways to try to change it, but you don't have the votes as we just saw in the Senate," Blitzer shot back.
Blitzer asked Bachmann about a hypothetical people who do not have health insurance but spend money on "dinner" and "vacations." He asked if taxpayers should take care of "these freeloaders."
Bachmann said that the ACA expands the number of people who taxpayers will have to be cared for.
Blitzer insisted that it is not appropriate for uninsured people to be going to the emergency room for regular care.
"Quite often it's illegal aliens," Bachmann countered.
"That's another subject," Blitzer said.
"We know now the estimate from the government is that about 30 million people are going to be cut off their employer's health insurance because of Obamacare," Bachmann stipulated.
"I don't know where you're getting 30 million people," Blitzer replied.
"From the government," she insisted.
"That's not true," he countered. "You're going to have to show me those numbers."
Bachmann insisted that she hopes the government does not go into "slow down" over the ACA, but insisted that it would be the fault of Sen. Harry Reid (D-NV) for stripping language that defunds the law from the CR the House already passed. She said she would not vote for a "clean" CR if the Senate sends that back to the House.
Watch the exchange below via CNN:
[Photo via screen grab ]
— —
> >Follow Noah Rothman (@NoahCRothman) on Twitter
Have a tip we should know? tips@mediaite.com