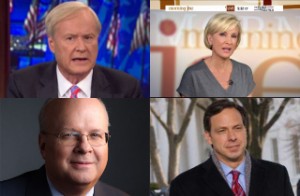 Part I of my Cable News Winners of the Year saw awards handed out to everyone from Beckel to Cupp to Gutfeld to Maddow to Morris to O'Donnell.
So who else were the biggest and best in (and on) cable news?
Your winners (just my meaningless opinion and not that of Mediaite) are the following:

Best passion: Chris Matthews
Say what you will about the divisive host of Hardball, but know this: NO ONE in cable news wears his heart on his sleeve as overtly as Matthews.
The candid performances have become so legendary that any kind of big political night (election result, debate, etc.) has come down to the following viewing process:
1) Find out who won.
2) Get perspective from favorite analysts to either console in a loss or verify in a win.
3) Check out how Chris Matthews reacts live or shortly thereafter on Mediaite (this tends to be infinitely more compelling when he's on the losing end).
4) Check out Saturday Night Live to see parody of said reaction.
Whether he's intentionally hyperbolic or not, Matthews is the essence of what cable news is becoming:
Infotainment.
Biggest revelation: Mika's Salary
One hot topic to come out of the debates centered on equal pay for men and women (the Lilly Ledbetter Act). So when the discussion was broached on MSNBC's Morning Joe, an interesting (and contradicting) tidbit was revealed about co-host Mika Brzezinski, who had this to say on the topic at the time:
"We've been talking a lot this week about women and equal pay and all these issues," she said. "I have to say, in all seriousness, I'm very lucky to be working with you [co-host Joe Scarborough] and for a company [MSNBC] who has actually dealt with this problem transparently."
It was later revealed by the Daily Beast that co-host Joe Scarborough makes a hefty $4 million per year , while Mika's salary – who clearly does equal work in hosting the show — gets half as much.
Best hire: Jake Tapper
There is no reporter that is as respected by both the left and right as much Tapper, who will anchor a weekday show and serve as the CNN's chief Washington correspondent. Jeff Zucker is will certainly be the most interesting cable executive to watch in 2013 if this kind of move is any indication.
Best Political Calculation: President Obama
Way back when in the 1984 Presidential campaign, Walter Mondale effectively killed his chances against Ronald Reagan when stating, "The budget will be squeezed. Taxes will go up. .?.?. It must be done. Mr. Reagan will raise taxes, and so will I. He won't tell you. I just did."
Mondale would go on to lose 49 of 50 states.
Fast forward to December 2012, where President Obama is fresh off a re-election effort largely successful for doing what was once a big no-no in politics:
Supporting, even promoting, tax increases…
But does raising taxes help solve our big spending and debt problems?
Let's put it this way:
• If Congress enforced a 100 percent tax, grabbing all earnings above $250,000 per year, it would yield $1.9 trillion.
• That sum would keep the federal government running for 190 days.
• One problem (besides there still being 175 days left in the year while applying an impossible scenario): U.S. debt in 2012 alone (almost $17 trillion overall) will be $1.33 trillion, according the whitehouse.gov
So explain again how raising taxes on the rich brings down our debt and makes our economy stronger?
Nevertheless, the president has effectively made the argument for higher taxes, has cast himself as a savior of the middle class, and has done so without being called out on its minimal benefits to debt reduction by most of cable news. In the process, whether it's by design, luck or both, he has fractured the Republican Party and may have cost John Boehner his Speakership.
1984, this is not…
Biggest Scapegoat: Karl Rove
The Fox News political analyst got eviscerated for his alleged meltdown during the night of election coverage. But let's take an objective look at what really happened and why:
At the time, Mitt Romney was in desperate need of a win in Ohio to keep his hopes alive. So when the Fox News "Decision Desk" called Ohio for the President, Rove politely and professionally stated he thought the call – a pivotal one — was made too early.
Not a ridiculous point. At the time, only 991 votes separated the two candidates with over one million votes left to be counted. Clip here:
From there, FNC executive producer Michael Clemente made the bold decision to capture the controversy in real time. Without thinking twice, he ordered co-anchor Megyn Kelly to go mobile to the Decision Desk to speak live with the usually-anonymous experts who make such important calls.
Upon being informed of Rove's objection, Desk Chief Chris Stirewalt didn't waver from the original decision, stating he was "99.95 percent sure" Obama would win Ohio.
Great TV.
No one raised their voice or acted like a fool…despite what you may have heard.
Rove's detractors – and there are many on the left simply because of his close ties to George W. Bush and just from being a Fox analyst – declare that Rove was only upset because his horse just lost the race and couldn't handle the news.
After all, why else would he have the audacity to question the experts who could never, ever make such a huge mistake by calling a critical state for the wrong guy?
Wait?
That happened?
And not too long ago?
In an election involving Rove and the aforementioned former President?
Oh, that's right…Rove lived through this scenario before during the 2000 Bush-Gore election night.
A quick review: Florida called for Gore (before the polls closed), followed by a reverse call back to Bush, followed by Gore only seconds from conceding before being told not to, followed by endless court battles, followed by…you know the rest.
So after going through that broadcast catastrophe and its fallout, didn't Rove – of all people – have the right to question the result?
And please…a meltdown?
Here's what a meltdown looks like:
Oddly, the same firestorm wasn't remotely created after MSNBC host Ed Schultz questioned his network on calling the Wisconsin gubernatorial recount for Scott Walker:
"You know, NBC is calling it for Walker. Okay, I think it's awful close," Schultz said to Rachel Maddow. "There's a lot of absentee ballots that are still out and it's going to be very, very close down to the wire."
Turned out that margin wasn't even close (53-46 for Walker vs. Obama's final Ohio margin of less than three points)…
In the end, Rove was wrong on the final tally, but not on the way he handled himself.
Biggest winner: Earth
Although we're all losers for surviving only to endure WAY too many lame jokes on Facebook and Twitter about an apocalypse that never came…
Next week: My Winner of the Year announcement!
Until then, have a Merry Christmas!
>> Follow Joe Concha (@ConchSports) on Twitter
Have a tip we should know? tips@mediaite.com