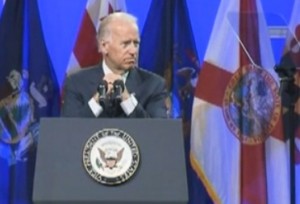 On the heels of Republican presidential candidate Mitt Romney's embattled (yet totally successful, in its way) speech before the NAACP Convention, Vice President Joe Biden delivered a barn-burner of a keynote address Thursday morning, and while it remains to be seen if this speech moves the needle electorally, the well-publicized contrast couldn't be more stark, and is best summed up by the fact that this crowd, who booed Romney three times, also booed Joe Biden…because he told them his speech had to end.
The Vice President's speech was a veritable truckload of raw ribeye steaks for liberals, grilled to perfection by Biden's easy, confident connection with the crowd, who responded with vigorous applause and frequent cries of agreement. Biden, himself, noted near the end, "This is preaching to the choir."
And preach, he did, drawing disappointed boos when he foreshadowed the end of his speech, saying "Let me close, my friends," then raising the specter of a Romney-appointed Supreme Court. "Folks, this election, in my view, is a fight for the heart and soul of America," he said.
"These guys aren't bad guys," he continued, "they just have a fundamentally different view. The best way to sum up the President's view, my view, and I think your view, is we see America where, in the words of the scripture, what you do unto the least of my brethren you do unto me."
The crowd goes wild. "As President Obama says, we are our brother's keeper, we are our sister's keeper, we have an obligation. and as I said, I believe this election will come down to character, conviction, and vision, and it will not surprise you to know, I don't think it's even a close call. So it's time, it's time for the NAACP to do what it's always done, what it did for me, a young kid in Delaware, inspire a generation to stand up, make our case, stand our ground, and make real our vision for America. God bless you all, and may God protect our troops."
He didn't literally drop the mic, but a final slap of the podium was a close stand-in, as Biden exited the stage to the strains of Signed, Sealed, Delivered.
The speech was definitely an exercise in shooting paralyzed fish in a barrel (with a machine gun),but was also an impassioned demonstration, for independent voters, of the competing visions of the two candidates. It also provided the political media with a sharp contrast, not just to Romney's Wednesday speech, but the revealing aftermath.
Here's the clip, from CNN:
Follow Tommy Christopher (@TommyXtopher) on Twitter.
Have a tip we should know? tips@mediaite.com