Romney 2 Electric Boo-galoo: NAACP Crowd Boos Mitt Romney For Trashing Obama And Saying He's Their Guy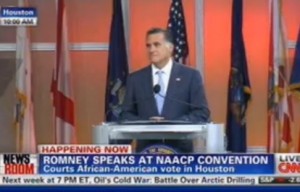 Former Massachusetts Gov. and Republican presidential candidate Mitt Romney address the annual NAACP Convention Wednesday morning, and in addition to being roundly booed for promising to repeal Obamacare, he drew jeers from the crowd later in the speech when he criticized the President's term in office, and said that "If you want a president who will make things better in the African American community, you are looking at him."
Toward the end of his speech, after he laid out his vague five-point plan (energy, trade, repealing Obamacare, "nurturing" "human capital," and gutting regulatory protections), but before his amorphous education plan, Romney drew boos when he told the crowd "The President will say he will do those things, but he will not, he cannot, and his record of the last four years proves it definitively."
"If I am president, job one for me will be creating jobs," Romney continued, and in response to the booing, ad-libbed this line: "Let me say that again; my agenda is not to put in place a series of policies that get me a lot of attention and applause, my policy will be number one, create jobs for the American people."
He then went back on-script. "I have no hidden agenda. I submit to you that if you want a president who will make things better in the African American community, you are looking at him," which was met with a mixture of polite applause and jeering. Romney soaked it in awkwardly for a few seconds, then said, with a game nod, "You take a look!"
All things considered, the speech could have gone a lot worse. Aside from this moment and his promise to end Obamacare, the speech was at least politely received, and the crowd didn't even seem to mind when Romney took a backhanded shot at President Obama for sending Vice President Joe Biden (who speaks to the convention Thursday) instead of attending himself, saying that "if I am elected president, and you invite me to next year's convention, I would count it as a privilege, and my answer will be yes."
The speech was never likely to earn him many, if any, black votes, but the sections where he was booed were somewhat to be expected, and reinforce Romney's position with voters who agree with him on health care reform, and who are leaning away from the President. The rest of the speech was vague enough to avoid drawing any more negative reactions.
Here's the clip, from CNN, followed by the prepared text of Romney's speech:
Follow Tommy Christopher (@TommyXtopher) on Twitter.
NEXT: Boston, MA – Mitt Romney today delivered remarks at the NAACP Convention in Houston, Texas. The following remarks were prepared for delivery:
Have a tip we should know? tips@mediaite.com