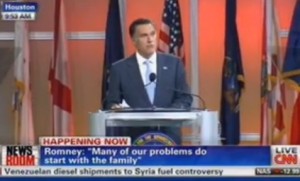 One of the "bright spots" for Mitt Romney at his speech before the annual NAACP Convention Wednesday morning, which was marred by several episodes of booing, was his brief commentary on an issue about which he and President Obama strongly disagree. While the President has (fairly recently) come out in favor of gay marriage, Romney promised the crowd he would "defend traditional marriage.
Despite the NAACP's recent endorsement of marriage equality, there was no audible disapproval from the crowd.
Romney began by extolling the virtues of the family, citing a study from the Brookings Institution that Romney said "has shown that for those who graduate from high school, get a full-time job, and wait until 21 before they marry and then have their first child, the probability of being poor is two percent.  And if those factors are absent, the probability of being poor is 76 percent."
The "logic" here is that decimated families cause poverty, not that poverty decimates families, which probably makes sense to people who have never known poverty.
"Here at the NAACP," Romney continued, "you understand the deep and lasting difference the family makes.  Your former executive director, Dr. Benjamin Hooks, had it exactly right.  The family, he said, 'remains the bulwark and the mainstay of the black community.  That great truth must not be overlooked.'"
"Any policy that lifts up and honors the family is going to be good for the country, and that must be our goal," Romney added. "As President, I will promote strong families – and I will defend traditional marriage."
The crowd's negative reactions to Gov. Romney are drawing a lot of media attention, but the cheers he received confound recent polls that show President Obama's "evolution" on the subject of gay marriage having a positive impact on black public opinion.
It will be interesting to see if Vice President Joe Biden (whose rogue comments on gay marriage sped the President's evolution) brings up marriage equality when he speaks at the convention tomorrow, and how it is received if he does.
Update: Someone on Twitter pointed out that CNN's Roland Martin reported seeing as many as 200 Romney supporters emerge from buses to attend the speech, and suggested they were responsible for the cheering. I suppose that's possible, but if they were there to pul the crowd for Romney, they did a lousy job of countering the booing elsewhere in his speech.
Here's the clip, from CNN:
Follow Tommy Christopher (@TommyXtopher) on Twitter.
Have a tip we should know? [email protected]