NAACP Leader on Keith Scott Shooting: 'It Really Doesn't Matter If He Had a Gun'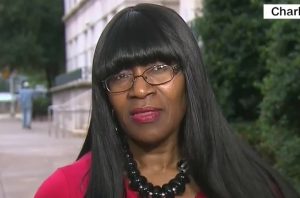 A local NAACP leader told CNN's Carol Costello Thursday that it didn't actually matter whether or not black Charlotte man Keith Scott had a gun on him when he was shot and killed by police.
Scott's death led to protests and violence for the past two days, after his family reported that he was holding a book when he died. Charlotte police have called that false, saying that police body camera footage shows he was brandishing a gun and that they recovered a weapon from the scene.
But the president of the Charlotte chapter of the NAACP Corine Mack said ultimately it didn't matter. "I think the most important part is the contrast in him having a book versus a gun. But in my mind and in most of the community's mind, it really doesn't matter if he had a gun," she said.
"At the end of the day we have the right under the Second Amendment to carry here in North Carolina," she said. "And [the police's] responsibility was to engage him in a more deescalated way, to find out if he had a permit for his gun and allow him to go on his merry way and he would still be living today. That's not what happened."
"So I don't want anyone to walk away from this conversation today thinking that a video showing he had a gun in any way says that he was guilty of anything," concluded Mack.
Watch above, via CNN.
[Image via screengrab]
—
>>Follow Alex Griswold (@HashtagGriswold) on Twitter
Have a tip we should know? tips@mediaite.com