NAACP's Julian Bond Reacts to New SNL Hires: Hope They Help 'Restore Some of Its Sharpness'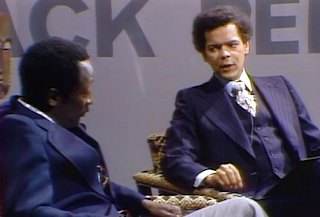 This coming weekend, Saturday Night Live will return from its winter hiatus with a brand new featured player and two new writers, who all happen to be African-American women. To mark the occasion, one of the first black men to ever host the show during its second season in 1977 penned a column for The Hollywood Reporter that reflects on his own discomforting experience and takes a hopeful look at the future of the show.
Julian Bond, who spent 11 years as chairman of the NAACP before recently moving into the role of chairman emeritus, writes that he was "happy to read the news that an African-American woman (Sasheer Zamata) and two black female writers (LaKendra Tookes and Leslie Jones) were hired for the show because people of color, especially women, have been conspicuous by their absence." But he fears that the new hires will be taken less seriously because of the circumstances surrounding their addition to the show.
All three women were "discovered" after a secret round of auditions for black women only, which were prompted by a growing controversy that the show hadn't had a black woman in the cast since Maya Rudolph left in 2007.
"I'm appalled that the circumstances of their hiring would lessen — in some viewers' minds — the talent and skills they bring to the program," Bond writes, invoking his background in civil rights activism. "There are sure to be those who think that their race, not their talent, won them their jobs."
Bond goes on to remember the "discomfort" he felt when he performed a sketch with the show's only black cast member, Garrett Morris, in which he had to say that light-skinned blacks are smarter than dark-skinned blacks. "Morris, who is darker skinned than I am, did a perfect double take," Bond recalls. "I felt squeamish then but did the skit anyway, and I feel uneasy about this joke even today. I believed it treaded dangerously on the fine line between comedy and poor taste."
At the same time, Bond writes that understands comedy like SNL has to ride that "fine line" in order to help us deal with "life's vagaries." He ends an upbeat note, hoping the new additions can help "restore" some of the "sharpness" that used to be inherent in the "cutting edge" show.
Watch a clip of the sketch Bond recalls below, via NBC:
[photo via screengrab]
— —
>> Follow Matt Wilstein (@TheMattWilstein) on Twitter
Have a tip we should know? tips@mediaite.com