Despite Media's Best Efforts, No Name-Change Protests at Sunday's Redskins Game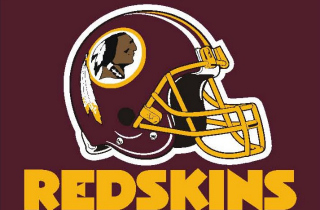 It was just a mere three weeks ago that cable news was buzzing about a halftime commentary by NBC's Bob Costas regarding his (extremely belated) two cents around the Redskins name "controversy". Costas—despite being in broadcasting for almost 40 years without ever broaching the topic—decided to jump on the media bandwagon with a "me-too!" memo, declaring the Redskins name offensive and recommending it be changed in the name of social justice.
But thanks to the 24/7 news cycle—one that has been dominated by the worst rollout of any major government program in modern times (Obamacare)—the Redskins name-change story lacks what so many other hot-for-a-day stories do:
A follow-up.
Attention after the noise dies down.
No worries…we've got you covered right here.
Since the Costas plea to the tens of millions watching Sunday Night Football, other publications have jumped on the PC-bandwagon, including the San Francisco Chronicle. Chalk this up in the "big-whoop" section on your scorecard, because the only two papers that matter in this discussion are the Washington Post and the Washington Times…both of which continue to call the Redskins, well, the Redskins.
But the bigger story is one that doesn't fit the "it's-now-only-a-matter-of-time-before-the-name-gets-changed" inevitability narrative we heard from all corners of sports and political media after Costas (and the President) made their opinions known in October. That story—one that morally-superior sports writers have conveniently overlooked—is what's been happening at the two home games the Redskins have played in the past three weeks.
Check that…what hasn't been happening.
They're called protests.
Of any kind…
Note: FedEx Field in Landover, Maryland holds about 82,000 people. The team—coming off a division title last year—is a disappointing 3-5. Yet the Redskins continue to rank second out of 32 teams in total attendance, continue to be THE place to be on Sundays in the DC-area. Fans wearing Redskins gear or singing Hail to the Redskins after every touchdown aren't booed, aren't harassed, aren't told they're being offensive by any group or even select individuals calling for a change.
After all, you need those in opposition to create that scenario. But don't blame some in sports media for not trying to stir the pot. For example, ESPN's Sal Paolantonio had reported that the Redskins had extra security behind the team bench (apparently in fear of protests) before yesterday's home game against San Diego. But Paolantonio later reported that no protesters had been seen at the stadium, while team officials have steadfastly denied of any plans to beef up security.
Whoops.
Instead, FedEx Field is just like any other NFL stadium on an autumn afternoon: Tailgating, team spirit and a mostly-great family atmosphere (save for a few overserved fans) that has made football America's new pastime, an entity no other professional league can touch in popularity or profit.
And the most profitable team of them all over the past decade, according to Forbes?
The Washington Redskins.
Remember this: If the Redskins name was so offensive, so deplorable, those who buy the tickets, the merchandise, the hot dogs and the beer…they would make their voices heard. They would vote to change the name with their wallets by no longer supporting the team. Given the year the Redskins are having to this point, it wouldn't be very difficult to stay home.
Folks like Costas, SI's Peter King, ESPN's Bill Simmons (my favorite writer of all-time) and USA Today's Christine Brennan—along with many others with a byline—all thought their stand would result in a PR nightmare for Dan Snyder and the Redskins. They dreamed the protests would grow bigger, louder, to the point where the team owner would have no other choice but to bow to the PC-Gods. And when it was over, people would shake their hands for taking such a brave stand on such an important topic.
Except apathy won the day…
Most Native Americans—in poll after poll—say they have bigger things to worry about.
Many even see the name as a positive thing, as a source of pride.
Remember, it isn't just about just being a journalist in 2013, it's about advocating a cause, about taking a stand, making a difference, and of course, making yourself the story.
The Redskins beat the Chargers in an overtime thriller, 30-24, to somehow stay within striking distance of the first-place Cowboys in the NFC East.
And that's the only Redskins story people are talking about today.
— —
>> Follow Joe Concha (@ConchaMedia) on Twitter
Have a tip we should know? tips@mediaite.com