Nancy Grace And Dan Abrams Battle Over Conrad Murray Trial: 'It's A Cover Up!'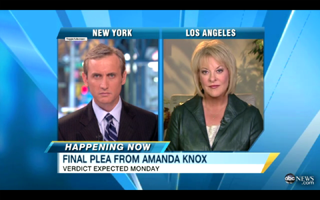 Doctor Conrad Murray's trial continued yesterday with the jurors hearing testimony from the first security guard to be called for help by Murray. Alberto Alvarez told the court that Murray told him Michael Jackson had a bad reaction, and asked him to hide a bag of medicine vials before calling the police.
On Good Morning America today, Dan Abrams suggested that Alvarez was the most important witness so far. "Why?" he explained. "Because up to this point we've been hearing about what Dr. Murray didn't do, what he could have done, what he might have done." Alvarez's testimony tells something Murray did do.
"He literally tells him to take the vials and put them in the bags," Abrams continued. "Which shows you that at least Dr. Murray knew that there was a problem, at the very least. If not a lot worse than that. Now you don't just have what he didn't do, you have what he did do."
Nancy Grace, joining him this morning, was of course less forgiving. "Dan, you should really call it what it is," she chided:
It's not a 'problem,' it's called a cover up! A clean up of the scene, where before he even calls 911 he's trying to clean up vials? He's trying to clean up an IV that was injected into his ankle. He's trying to clean up all sorts of evidences, and immediately after Jackson is pronounced dead, he goes, 'I'm hungry! Let's go eat everybody!'
Watch the full segment, courtesy of ABC, below:
Have a tip we should know? tips@mediaite.com