Nancy Grace And Dan Abrams Duke It Out Over Bengals Cheerleader Sexual Abuse Case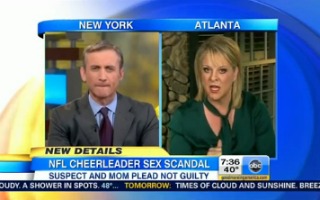 HLN host Nancy Grace joined Mediaite founder and ABC legal analyst Dan Abrams on Good Morning America to discuss the story of Sarah Jones, the former Bengals cheerleader accused of accused of sexually abusing a minor.
RELATED: Nancy Grace And Dan Abrams Spar Over Grace's Controversial Whitney Houston Comments
Grace took issue with host Katie Couric's word choice, preferring to refer to Jones' alleged crime as a felony and a sex crime rather than something that was simply "unseemly."
Abrams cautioned Grace, as a victims' advocate, to think about how the alleged victim and his mother feel about the case since both the 16-year-old and his mom have said they do not want to move forward.
And while Grace agreed that the boy's feelings should be considered, they shouldn't work to ultimately "impede justice." She also had something to say to Abrams:
And number one, Dan Abrams: I am a crime victim, a tangential victim of murder. So don't you, sitting up on Park Avenue, tell me, a crime victim, about what a victims' advocate should or should not do. Number. One.
"Are you no longer a victims' advocate, Nancy?" asked Abrams. "Because I thought you were. I thought you positioned yourself as victims' advocate. So if you don't, I'm wrong."
The two continued to argue about whether the alleged victim's wishes should be honored, with Grace claiming that they wouldn't even be having this discussion if the alleged sexual predator had been male. "You're just all hung up that she's a hot Bengals cheerleader! So get past that, Dan." He disagreed, later pointing to the various high-profile cases of female teachers committing statutory rape with their male students.
Have a look, via ABC:
Have a tip we should know? tips@mediaite.com