Nancy Grace And Dan Abrams Spar Over Grace's Controversial Whitney Houston Comments
Nancy Grace And Dan Abrams Spar Over Grace's Whitney Houston Comments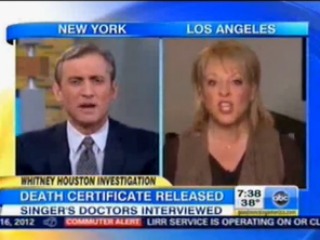 HLN host Nancy Grace and Mediaite founder / ABC legal analyst Dan Abrams visited Good Morning America on Thursday, where host Robin Roberts asked Grace about a comment she made earlier this week regarding the death of singer Whitney Houston.
Grace, as we reported on Monday, had told CNN Newsroom anchor Brooke Baldwin: "I'd like to know who was around her, who — if anyone — gave her drugs… following alcohol and drugs, and who let her slip, or pushed her, underneath that water? Apparently, no signs of force or trauma to the body. Who let Whitney Houston go under her water?"
RELATED: Nancy Grace On Whitney Houston's Death: 'Who Let Her Slip, Or Pushed Her, Underneath That Water?'
Grace defended her questions:
Well, if you look at the entire sentence, I understand that some people would consider that jarring or harsh. But there is nothing delicate or nice about a murder, a death, an unexpected death, or an autopsy. And that is what autopsies are for. I know most people aren't exposed to medical examiners, autopsies, morgues, medical examiner investigations. But that's why you have an autopsy, to determine — when something looks to be not a natural death or an accidental death — was it a murder? Was it a heart attack? Was it an overdose? That's what they were looking at. That's what they had to find out.
"But , Nancy," asked Abrams, "can't you just say, 'You know what, I was wildly speculating and I'm sorry. I shouldn't have said it. It was inappropriate.'"
Grace did not agree that her comments amounted to speculation. "The reality," she continued, "is that an autopsy is a search for the truth. And if anyone loved Whitney Houston as I did, that is what medical examiners do. They looked to see if it was a homicide, if it was natural causes, or accident."
"But that's not the reality of this particular investigation," Abrams countered. "Did anyone who is associated with this investigation say that they were looking into who pushed her under the water?"
"You're arguing with me over semantics," Grace later said.
"No. No, I'm not," Abrams replied. "I'm arguing with you over going on television and making a comment that I think was was rightfully viewed as inappropriate."
Have a look, via ABC:
Have a tip we should know? tips@mediaite.com