Nancy Grace And Joe Oliver Listen To Zimmerman's Controversial 911 Tape… Many, Many Times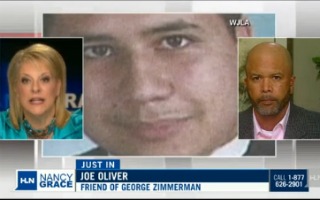 On her show Tuesday night, HLN's Nancy Grace spoke with the rather ubiquitous Joe Oliver, a former reporter and friend of George Zimmerman who has been making the media rounds as of late.
Grace wanted Oliver to share Zimmerman's account of exactly what happened the night he shot Trayvon Martin in a Sanford, Florida gated community. Oliver told Grace that a big problem with the story has been not only the local authorities' handling of the crime, but also the manner in which the media has chosen to cover it.
RELATED: Zimmerman Friend Joe Oliver Tells Piers Morgan: 'We've Lost George, Too. He Will Never Be The Same Man'
For one, said Oliver, Zimmerman is "not white, he's a Latino male." [Ed. note: Sigh.] Then, he and Grace had a back-and-forth about Zimmerman's weight. Some reports, said Oliver, incorrectly stated that Zimmerman weighed somewhere around 250 pounds — making him much heavier than Martin — when he's actually closer to 170 pounds. Grace defended her show's coverage, noting that she has never made the Martin in case an issue of race. That said, she was confident that she'd heard, "with my naked ear," Zimmerman use racial slurs on his 911 call.
Oliver insisted that, to his ear, it sometimes sounds as if Zimmerman indeed used the word "coon," and, at other times, it sounds more like "goon" and that "a lot of it depends on your perspective."
RELATED: Joe Oliver's Weird 'Coon/Goon' George Zimmerman Defense: It Was A Compliment?
Grace wanted to re-listen to the tape, even cutting off the show's segue music to do so. The resulting sound bite was something like a potentially horrifying club remix.
Later, when Martin family lawyer Natalie Jackson complained that Oliver had no reason to be discussing this on TV since he hadn't been at the scene the night Martin was shot, Grace shot back with, "Well, were you there? Were you there, ma'am?"
Check it out, via HLN:
Have a tip we should know? tips@mediaite.com