Nancy Grace Explodes At Zimmerman Friend: Are You Gonna Pull A Ouija Board Out Of Your Pants?!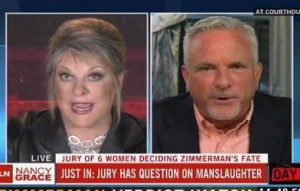 Nancy Grace lost her cool today while waiting for the George Zimmerman verdict to come down. During another exchange with Zimmerman friend Frank Taaffe, Taaffe made the assertion that the jury is mostly on the side of acquittal, but there's one holdout. Grace lit up and demanded to know where exactly Taaffe was pulling that statistic out of, and repeatedly shouted at him to explain as he kept going. At one point, she even cried "Oh, dear lord in heaven!"
RELATED: Nancy Grace Cuts Mic Of Zimmerman Friend In Middle Of Explosive Confrontation
Taaffe argued that the state never successfully disproved Zimmerman's self-defense claim, and told Grace he believes the jury is 5-1 for acquittal, with one holdout. Grace looked utterly baffled as she at first calmly and then angrily replied to Taaffe.
"I need an interpreter to figure out what it is you just said. I asked you for a response, and you just went off–I don't even know what you're saying except now, Taaffe, you apparently claimed that you know the breakdown of the vote in the jury!"
Grace demanded to know how he came up with his theory. Taaffe said he "firmly believe[s]" that's the case, but Grace wouldn't let it go. She kept shouting "Why?!" and "Answer me!" as Taaffe kept going, eventually crying, "You're just making it up! There is not one shred of evidence to suggest that there has even been a vote yet!"
She proceeded to sarcastically tell him, "I think you've got an ouija board down your pants and you're gonna pull that out." Taaffe started to cite Joe Namath at the 1969 Super Bowl, to which Grace immediately reacted with an "Oh, dear lord in heaven" and cutting away from Taaffe.
Watch the video below, via HLN:

—–
Follow Josh Feldman on Twitter: @feldmaniac
Have a tip we should know? [email protected]
Josh Feldman - Senior Editor